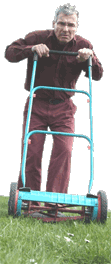 Gazania is a genus of flowering plants native to southern Africa. Several members of this genus are cultivated by gardeners and known informally as gazanias or treasure flowers. These plants are very easy to grow and can be used for beds, borders, and edging. Seedlings and seeds can both be obtained at many nurseries and garden supply stores, particularly in the spring months. Gardeners can also exchange plants and seeds with other gardeners; people interested in seed exchanges can find an online gardening community to connect with gardeners, or simply ask around in their neighborhoods.
Members of the Gazania genus produce narrow leaves and boldly colored flowers that resemble daisies. The plants grow low to the ground and can be seen in colors like orange, yellow, and bronze. In addition to having bright colors, the flowers also have distinctive markings like dots and stripes, typically at the base of each petal, and the foliage can vary from green to silvery gray in color. A planting of Gazania specimens can be very visually striking.
These plants are adapted for hot, dry climates, and are very well suited to low water and drought tolerant gardening. They grow well in United States Department of Agriculture (USDA) zones eight through 10 and can be grown like annuals in cooler regions, with people establishing plants in the late spring and allowing them to die off after the heat of the summer. Full sun is required, along with well-drained soil of medium fertility. It is important to avoid using heavy or clumping soils with Gazania plantings.
As perennial plants, Gazania plantings will return every year. It can be helpful to trim away dead foliage in the fall, and it is advisable to periodically dig up and divide the plants to prevent crowding. These ornamental plants will fold up their flowers on overcast and cool days, but when the sun returns, so should the blooms. Gazania blossoms also make excellent cut flowers and cutting the flowers can stimulate the plant to keep producing blooms, keeping a flowerbed looking bright and colorful.
The tender flowers and foliage can be tempting targets for garden pests like rabbits. In areas where unwanted garden visitors are a common problem, preventative fencing is strongly advised. Onions and other strong smelling plants can be established to deter pests as well. It can also be helpful to plant flowers in a heavily trafficked area, as pests may be too afraid of passing people or predators to use the garden as a smörgåsbord.
Man mowing the grass