An exfoliant gel is a gel-based cleanser designed to gently remove dead skin cells, oil and impurities from the face and body. Facial exfoliant gels are often formulated specifically for people with oily or acne-prone skin but are also made for people with dry, rough or damaged skin. Some exfoliant gel products are designed to be used as all-over body washes or treatments for hands or feet as well. These types of products can be made using natural formulas or made with cosmetic-grade chemicals designed to perform specific actions.
Many exfoliating products rely on ingredients that create a granular consistency that, when used as a scrub, loosens dead skin cells from the skin surface. The exfoliant gel, however, is more likely to have a smooth consistency. Amino acids and enzymes are added that dissolve the surface layers of dead skin cells. This makes for a gentle, non-abrasive exfoliant. Some cleansing gels may also contain granular ingredients for added exfoliation.
Alpha-hydroxy acids are naturally occurring acids that are found in fruits and are often added as an exfoliant ingredient. Some sources of these exfoliating acids are citrus fruits, apple cider vinegar and red wine. Additionally, papaya and pineapple are two sources of naturally occurring enzymes that dissolve dead skin cells. Enzymes are large molecules that break down proteins. Internally, they work on digestion; externally, they go to work on the outer-most layer of skin.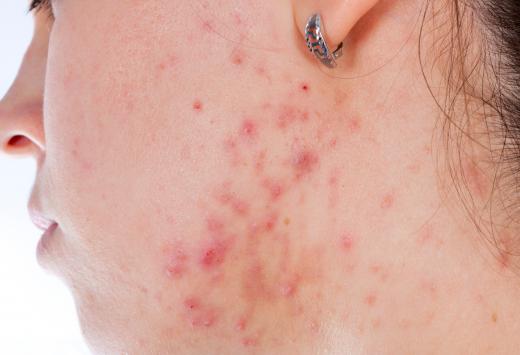 Facial exfoliant gels are well-suited for people with oily skin and for those suffering from acne and outbreaks. The water-based product removes oil and dirt without leaving an oily film behind. Cleansing gels often have astringent and toning properties that help relieve problem skin areas as well. The soothing and cooling nature of water-based gel cleansers make them appropriate for people with sun- and wind-damaged skin or dry skin.
Body exfoliant gels are similar to facial exfoliant gels, but they tend to be cheaper and come in larger quantities. They are designed to be used as body washes in the shower or bath. Exfoliant gels designed as foot and hand treatments are similar to facial and body gel products but tend to have a more intense granular texture for scrubbing tough skin.
A good exfoliator is an important part of any skincare routine. The skin is constantly regenerating while the outer layer of cells die. The dead cells leave the skins surface looking dull and flaky. An exfoliant gel is ideal for sensitive skin and anyone who wants a gentle, non-abrasive exfoliator.
AS FEATURED ON:
AS FEATURED ON:






By: tashka2000

Natural enzymes in papaya can be used to exfoliate.

By: badmanproduction

Exfoliant gel can be used to treat and prevent facial acne.