What is Disability Compensation?
Disability compensation is a source of revenue awarded to individuals when they are no longer able to work and support themselves and their families. The compensation may come from several different sources, owing to the nature of events that led to the disability. Many people have some type of disability protection through their employment, past service in a branch of the military, or as part of their private insurance coverage.
One of the forms of disability compensation familiar to most people is known as worker's compensation, or worker's comp. Worker's comp is usually granted when the disability comes about due to events that occurred on the job while the employee was engaged in the task of carrying out his or her work responsibilities. In order to receive this type of disability compensation, it is often necessary to submit a claim. The insurance provider who underwrites the compensation program investigates the claim in order to make sure the incident meets all the qualifications for the extension of payments. Once it is determined that all the qualifications are met, the compensation claim is approved and the injured employee will begin to receive regular compensation in accordance with the terms outlined in the coverage.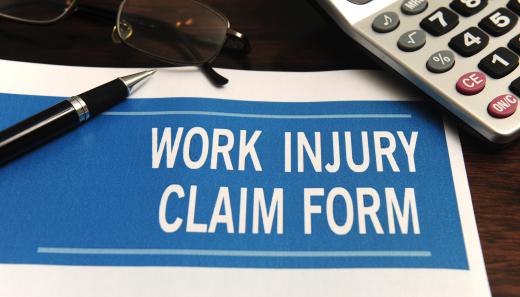 In similar manner to worker's compensation, there are also disability benefits extended to veterans of military service. The compensation is often linked to permanent injuries sustained during an active tour of duty. In some countries, disability compensation to veterans may also be extended for any debilitating health condition that results in permanent disability.
It is also possible for individuals to take out disability insurance coverage as both a separate policy or as part of a broad health coverage plan. In the United States, AFLAC is one of the major providers of this type of compensation. Often, individual employees are able to participate in this type of disability coverage with no expenses on the part of the employer. In many cases, the monthly premiums for the coverage can be set up as a payroll deduction and forwarded directly to the insurance provider. Depending on the terms of the coverage, most companies that offer individual disability compensation programs will pay compensation whether the injury occurs on the job or in some other setting.
Disability compensation rarely replaces the full amount of income lost when an individual is no longer able to work and earn a living. However, the compensation can help ease a portion of the financial burden. When used in conjunction with other financial programs and arrangements, regular disability payments can make it possible for disabled people to retain ownership of their homes and other property, eliminating at least one major area of concern.
AS FEATURED ON:
AS FEATURED ON:






By: mangostock

Workers that are injured while at work may be entitled to workers' compensation disability benefits.

By: belahoche

Veterans injured in combat might receive disability compensation.

By: wellphoto

Workers' compensation exists to provide financial assistance and medical treatment to employees who are injured on the job.