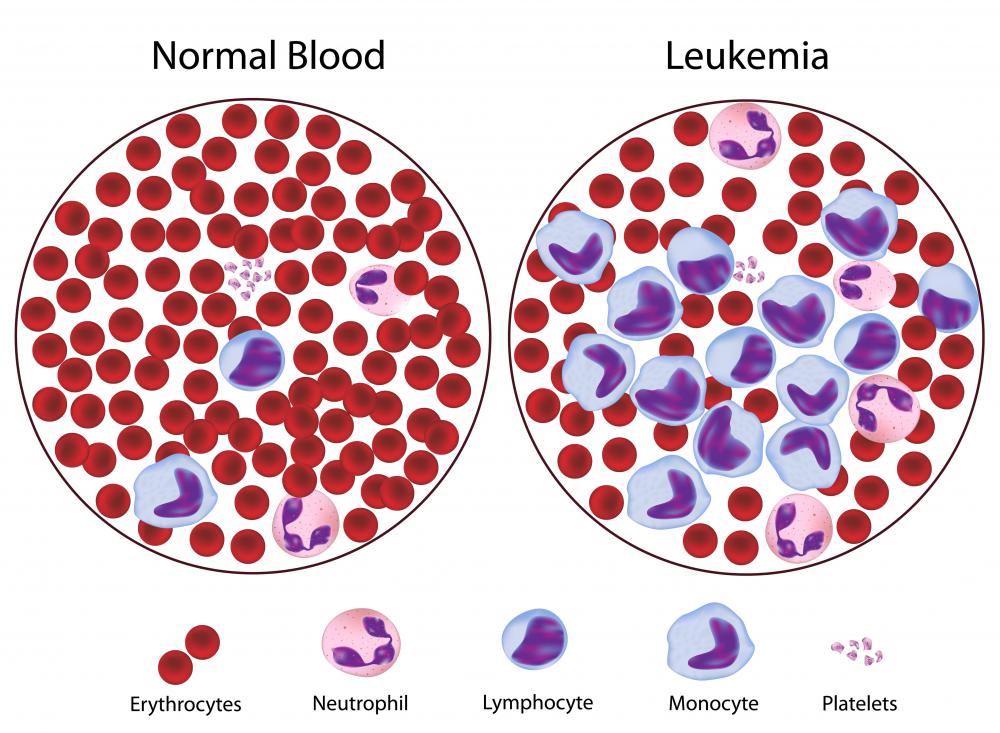 Daunorubicin is a chemotherapy agent used in the treatment of neuroblastoma, acute myelogenous leukemia (AML) and acute lymphoblastic leukemia (ALL). This medication also is known as daunomycin and is sold under brand names such as Cerubidine®. It is, however, much less commonly used than it once was, because of its many side effects. Possible side effects of daunorubicin include kidney damage and heart failure, in addition to common chemotherapy side effects such as immune system depression.
In addition to its activity as a chemotherapeutic agent, this drug is an antibiotic. It is both derived from bacteria and active against certain bacterial species. Although many new drugs are developed in laboratories, the bacterial species that produces this drug was discovered in Andria, Italy, in the 1950s. Soil samples taken from the grounds of a centuries-old castle at this location were found to contain a bacteria species called Streptomyces peucetius. Testing of the bacteria confirmed that it was capable of producing a potent anti-cancer drug.
Daunorubicin works by a process called deoxyribonucleic acid (DNA) intercalation. In this process, DNA strands are interrupted by the insertion of non-DNA molecules. This leads to malformation of DNA strands. This means that DNA no longer can be read to produce protein, and the cell no longer can replicate. This eventually leads to the death of the cell.
This chemotherapy agent can affect all cell types, but as with most other chemotherapy drugs, it is much more potent in rapidly dividing cells. This is because cells that are dividing rapidly take up more of the drug from their surroundings. Certain other cell types, including hair follicles and immune cells, also divide rapidly in the body, leading to side effects such as hair loss and immune system suppression.
The most common side effects of daunorubicin are nausea and vomiting, which can begin a few hours after a treatment and might persist for one to two days. Hair loss usually begins a few weeks after the first dose of the drug is received. Immune system suppression begins within a week of the first treatment and can persist for two or more weeks. Other common side effects include low red blood cell count, mouth ulcers, pink or red-colored urine, fatigue, weakness and sun sensitivity.
This drug also can cause certain rare but potentially dangerous effects. At high doses, daunorubicin can cause changes in the structure of the heart muscle. This can affect heart function and can lead to congestive heart failure. People with any type of heart disease therefore cannot use this drug. As a result, some patients might undergo cardiac function tests before treatment to determine whether the drug is safe to take.
The severity of the possible side effects of daunorubicin means that it is not used in cases where another drug with fewer side effects is an alternative treatment option. This drug is less useful than its developers might have hoped, but it has led to the development of several second-generation drugs, including epirubicin, idarubicin and doxorubicin. These drugs can have similar toxic effects, but extremely high doses are required for toxicity.
A diagram of the effects of leukemia. Daunorubicin is used to treat some forms of leukemia.

One of the most common daunorubicin side effects is hair loss.