Darifenacin is a generic medication commonly marketed under the brand name Enablex®. It is prescribed to treat urinary incontinence or an overactive bladder. This medicine works to reduce muscle spasms that may occur in the urinary tract and bladder, which can decrease symptoms like frequent and urgent urination, as well as uncontrollable urination. Darifenacin is classified as an antimuscarinic.
Patients will typically take a dose once daily with a full glass of water and with or without food. It is available in an extended-release tablet that should never be chewed or otherwise broken, because this can cause too much of the drug to be released at once. The doctor may initially start the patient on a low dose of darifenacin to allow the body to adjust to the medicine, and he may then increase the dosage after two weeks as needed.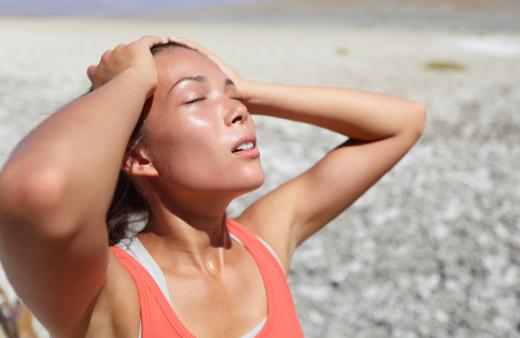 Some side effects may occur with the use of darifenacin, which the patient should report to the doctor if they are persistent or become severe. Patients may experience nausea, vomiting, and stomach upset or pain. Diarrhea and constipation may also occur. Constipation may be averted by the consumption of plenty of water and a high-fiber diet. Some patients may also notice blurred vision, dry eyes, or dry mouth.
More serious side effects require emergency medical care. Allergic reactions are unlikely, but may include problems breathing, severe dizziness, and swelling of the face, as well as hives and itching. Other uncommon, serious side effects may include problems urinating, severe abdominal pain, and constipation that lasts for more than three days. A kidney infection may also occur, which can be indicated by a fever, lower back pain, and painful or burning urination.
As of 2011, it is unknown whether darifenacin may pass into breast milk. Women who are pregnant should avoid using this drug whenever possible. Other precautions should also be followed, such as limiting alcoholic drinks to avert worsened side effects. Darifenacin may increase the susceptibility of a patient to heat stroke, so patients should avoid saunas and strenuous exercise in hot weather.
Patients must disclose their other medical conditions, medications, and supplements before taking darifenacin for urinary incontinence. The doctor should be aware if the patient has a history of bladder problems, liver disease, or any eye conditions. Darifenacin may be contraindicated for use by those who have a blockage in the digestive system, ulcerative colitis, or myasthenia gravis. This medicine may interact with other drugs, including antidepressants, antihistamines, and drugs for Parkinson's disease.
AS FEATURED ON:
AS FEATURED ON:






By: Maridav

Darifenacin may make a person more susceptible to suffering heat stroke.

By: krutoeva

Darifenacin is commonly prescribed to treat urinary incontinence.