What Is Crock-Pot® White Chicken Chili?
Crock-Pot® white chicken chili is a dish based on traditional chili recipes, but with lighter ingredients that give it a fresh taste while also providing a lot of convenience in the way it is prepared. Aesthetically, Crock-Pot® white chicken chili generally avoids the use of ingredients that color the food, with the bulk of the main elements being white or lightly colored, unlike a classic Mexican chili that is mainly red. By using a Crock-Pot®, the chili also is very easy to make and really involves only one pot. Preparation also is short, sometimes taking less than 15 minutes before the entire meal is left in the Crock-Pot® to simmer until done. Completed Crock-Pot® white chicken chili can be served on its own in a bowl or over crisp tortilla chips with cheese, sour cream or rice.
The chicken used in the chili can really be any cut, but thigh meat is often preferred because it is inexpensive and provides a strong flavor when cooked for a long time. The meat can be added to the Crock-Pot® on the bone, or it can be removed and added as boneless or shredded pieces. Crock-Pot® white chicken chili needs to cook for many hours before it is done, so it also is possible to add frozen chicken directly to the pot, eliminating the need for defrosting beforehand.
Nearly any variety of beans can be used but, to maintain the light color of the chili, white navy beans or great northern beans are usually included. Kidney beans or black beans also can be added, but they might provide an overpowering flavor to the dish if used in large proportions. Most recipes call for canned beans to make preparation of Crock-Pot® white chicken chili as fast as possible without needing to soak the beans overnight or parboil them.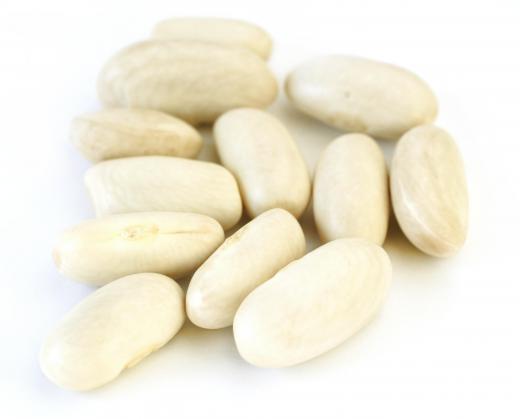 Unlike a red chili, Crock-Pot® white chicken chili uses only a few subtle spices. These include garlic, oregano, hot sauce and cumin. Chili powder is not often used. The chosen spices are added to the pot with chicken stock, diced onions, chili peppers and, occasionally, tomatoes — if the color of the final dish is not a concern. Corn, potatoes and green bell peppers also are sometimes added.
Once all of the ingredients are in the pot, it is set to cook for several hours or overnight. After the chicken is tender and the sauce has reduced, it is ready to be eaten. It can be served over rice, or in a bowl with traditional chili condiments such as cheese, corn chips or sour cream.
AS FEATURED ON:
AS FEATURED ON:






By: BronxPhotog

Navy beans, which are used to make Crock-Pot® white chicken chili.

By: tfazevedo

Great Northern beans, which are often used to make Crock-Pot® white chicken chili.

By: Giuseppe Porzani

Chili peppers are a key ingredient in most chili dishes.

By: dream79

Sour cream is often used to garnish white chicken chili.