What Is Crock-Pot® Chicken Stew?
Crock-pot® chicken stew is generally a chicken and vegetables dish that is slowly simmered in a slow cooker for up to eight hours. When prepared this way, flavors and spices usually infuse very deeply into the meat, eliminating the need to marinate or crust it with herbs to seal in juices. This long simmering also gives busy people the advantage of a home-cooked, hot meal without very much effort. Additionally, it may allow home cooks to try new ingredient combinations and experiment with new recipes.
Those that enjoy low-maintenance cooking sometimes use Crock-Pot® chicken stew as a staple dinner item. The recipe typically begins with raw chicken, cut into bite-sized pieces and placed in the bottom of a slow cooker. One doesn't need to precook the meat because the long simmering times cook the pieces all the way through. Some cooks even leave the chicken whole and shred it later with a fork. The home chef may prefer the ease of using skinless, boneless chicken pieces when choosing to cut the meat after cooking.
Lining the bottom of the vessel with some oil, spices, and desired vegetables can help create a flavorful start to the Crock-Pot® chicken stew. The ingredients will steep together for many hours, so such seasonings, aromatic veggies, and herbs — along with the meat itself — can make for a taste that is unique to each recipe. Infrequent stirring of the ingredients generally ensures even cooking and flavor distribution. Tasty vegetable choices may include potatoes, okra, onions, carrots, celery, hard winter squashes, and even sweet potatoes, among others.
Simmering liquid can be another important component in Crock-Pot® chicken stew. This carries the flavors into the chicken and veggies, helping them combine and marry into a single delicious dish. Water, is, of course, an option, but a bland one. Chicken broth, vegetable stock, and even beef bouillion all offer more flavor without the need for much additional seasoning. More creative options can include tomato sauce or diced fresh tomatoes, cheese-based sauces, or bottled marinades diluted with broth.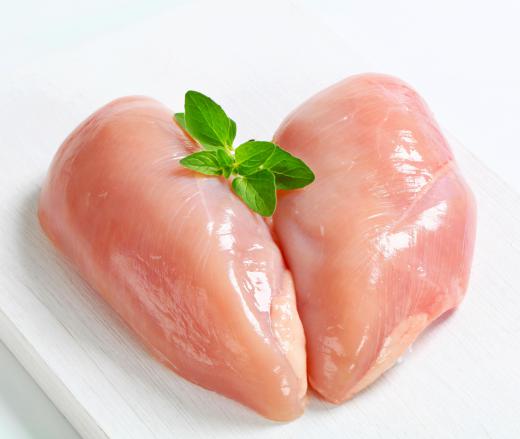 Whole aromatics, like peeled garlic cloves, thyme bundles, and bay leaves, also work wonderfully in Crock-Pot® chicken stew. These ingredients require long, careful simmering to impart the best of their flavors, which is exactly what a slow cooker does. Anyone adding these aromatics should remove them from the stew before serving it, to prevent diners from biting down on inedible bits, like brittle bay leaves. Wrapping them in a square of cheesecloth generally allows the liquid to move through them, but eliminates the need to search through the stew to find them all.
Possibly the best thing about Crock-Pot® chicken stew is its versatility. A cook who is short on time might make several batches of different chicken dishes, store them in plastic containers and keep them in the refrigerator for up to a week. By using different liquids, flavorings, and veggies in each one, he or she can have a range of tasty dinners without stress or much time spent cooking.
AS FEATURED ON:
AS FEATURED ON:






By: zach123

Winter squash is often added to Crock-Pot® chicken stew.

By: msheldrake

Crock-pot chicken stew consists of chicken and vegetables.

By: Viktor

Skinless boneless chicken works best in Crock-Pot chicken stew.

By: Lsantilli

Diced fresh tomatoes are included in some versions of chicken stew.

By: Joe Gough

Chicken cacciatore is an ideal stew to make in a Crock-Pot®.