What is Colchicine Gout Treatment?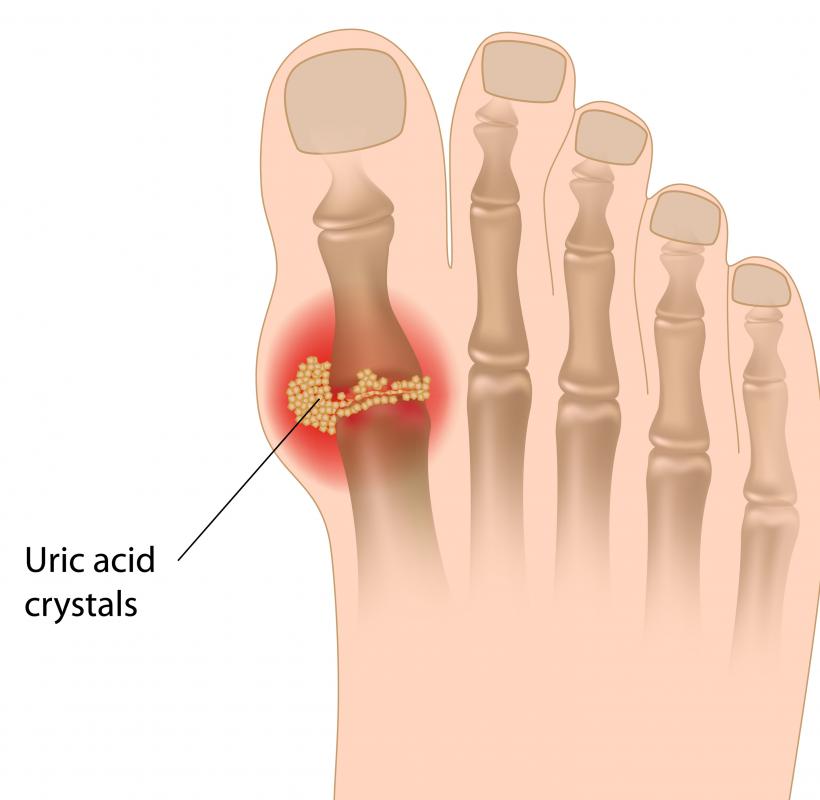 The colchicine gout treatment is an herbal treatment derived from the colchicum autumnale plant that reduces the pain and swelling associated with arthritis in the joints, commonly called gout. Alkaloids present in colchicum autumnale, commonly called autumn crocus or meadow saffron, give the plant its healing powers. This colchicine gout treatment, however, must be used with caution, because this plant, native to Africa and some parts of Europe, is known to be toxic.
Gout occurs when too much uric acid crystallizes in the joints, usually joints in the toes, ankles, knees and elbows. Finger joints can also be affected. While the colchicine gout treatment cannot remove the buildup of uric acid, it works by suppressing joint inflammation and pain. This means colchicine can be taken in place of anti-inflammatory gout drugs that might provoke allergic reactions and health problems in sensitive people.
Since a colchicine gout treatment cannot prevent uric acid for forming and accumulating, doctors often advise patients to take other medications along with colchicine. Compatible medicines, such as allopurinol or sulfinpyrazone, are often prescribed in tandem with colchicine. Combined at prescribed low dosages, no major side effects have been reported.
Medical reports indicate colchicine gout treatments can be effective not only in relieving gout but in staving off future episodes of gout, both mild and severe varieties. While in ancient times, colchicine concoctions were prepared from raw leaves, modern day use of colchicine for gouty arthritis relies on intravenous administration of a liquid form of colchicine or oral administration using colchicine tablets purchased from a pharmacy; the latter is most popular. An effective dosage is considered 0.6 mg, given twice a day.
To avoid poisoning and overdosing, colchicine gout treatments should not be taken regularly for extended periods. Instead, doctors recommend that people take a tablet of colchicine within the first 12 to 48 hours of a gout attack and then again in the morning and night each day thereafter until pain subsides. Medical professionals caution against taking more than a dozen tablets during a bout of gout.
In addition to toxicity, other risks are associated with the colchicine gout treatment. It can cause diarrhea, vomiting, and dehydration at high dosages. Kidney and bone marrow damage can also occur in some patients. In elderly patients, taking colchicine gout treatment can result in irregular heart rhythms.
A few patients have reported episodes of shock and hair loss as a direct side effect of taking colchicine. Doctors caution those with kidney problems, liver disease, and gastrointestinal issues not to take the colchicine gout treatment. Pregnant women should also avoid this herbal remedy since it can interfere with fertility, according to medical professionals.
Uric acid is involved in the development of gout.

Avoiding foods such as high fat meats and dairy products that raise uric acid levels is one way to treat gout.