What Is Chicken and Cashew Stir-Fry?
Stir-frying is an Asian cooking style in which small pieces of meats, vegetables, and other desired ingredients are cooked in a small amount of oil over high heat, while continuously being stirred. A dish that is referred to as a stir-fry usually consists of stir-fried ingredients that are tossed with a sauce, often made from Asian-style ingredients such as soy sauce, hoisin sauce, rice wine vinegar, or ginger. One common version of the dish is a chicken and cashew stir-fry, which is typically made with small pieces of chicken and a soy-based sauce, and topped with toasted cashew nuts.
Boneless chicken thighs or breasts generally form the base of a chicken and cashew stir-fry because boneless chicken can be more easily cut into uniform sized pieces to ensure even cooking. Although vegetables do not have to be used and may vary by recipe, commonly called for vegetables include green onions, broccoli, and bell peppers. Either whole roasted cashews or toasted shelled cashews may be used in the recipe. Asian condiments, such as hoisin sauce, consisting of soy sauce and chile peppers, or oyster sauce, made from boiled oysters and soy sauce, are often added to the stir-fry toward the end of cooking for additional flavor and moisture.
To make the process of cooking chicken and cashew stir-fry less time-consuming and prone to overcooking, most recipes tend to recommend having the ingredients prepped and ready to cook before starting. Stir-frying each ingredient often takes less than five minutes, which may not be enough time to prep the other ingredients. It is usually advised to ensure that the chicken pieces are cut into relatively equal pieces to one another, and that any vegetables being used are also in similar sized pieces so they can cook evenly.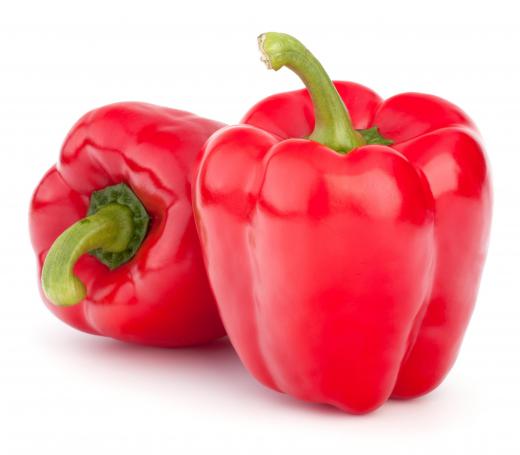 Chicken and cashew stir-fry is usually cooked by heating a small amount of oil, usually just enough to coat the bottom of the pan, over medium-high or high heat. The chicken pieces are often cooked first, by stirring them as they cook in the oil for about five minutes or until the poultry is opaque. After the chicken is removed, any vegetables being used are cooked until crisp, which also tends to take around five minutes. The chicken is then combined with the vegetables, and coated with the preferred sauce and cooked until the sauce thickens to the desired consistency. Cashews are then stirred into the chicken and vegetable mixture, or may be added on top, and served with rice or noodles.
AS FEATURED ON:
AS FEATURED ON:






By: Shariff Che'Lah

Cashews.

By: Natika

Diced bell peppers can be a good addition to a chicken and cashew stir-fry.

By: WimL

Peanut oil has a high smoking point and neutral taste ideal for a stir-fry featuring chicken and cashews.