What Is Chalkboard Spray Paint?
Chalkboard spray paint is used by contractors or decorators to create a painted surface with many of the same attributes as a chalkboard. It typically comes in black or green and can be used on virtually any item or area that can be spray painted, including walls and plastic, or metal surfaces. When dry, chalkboard spray paint has an appearance similar to that of a schoolroom chalkboard but is not restricted as to size and shape.
Some of the characteristics of chalkboard spray paint include a flat, rather than glossy, appearance. It is also very tough and durable, and it dries quickly once applied. It can be washed or wiped clean easily with water, and can be used over and over again. A good-quality chalkboard spray paint will provide years of trouble-free usage under normal circumstances.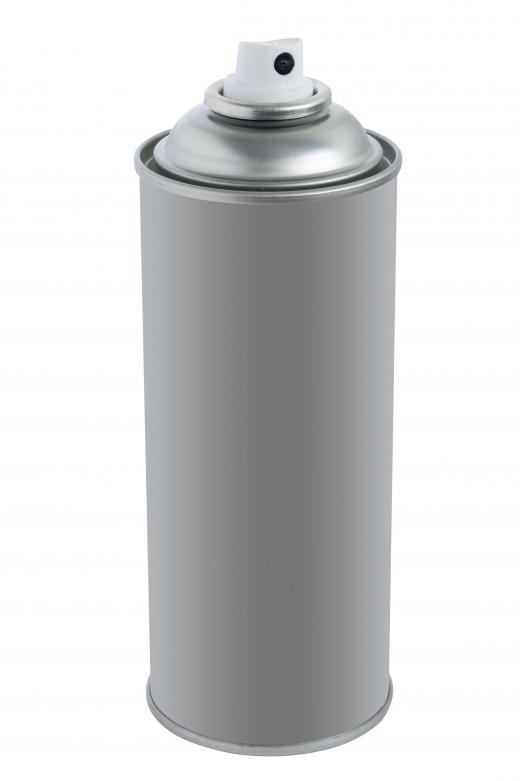 One popular use of chalkboard spray paint is the creation of a drawing area for children. Since it can be applied directly to the walls of a bedroom or playroom, the painted space can be as large or small as desired. The surface is clearly different from the other walls, so children quickly learn to draw only on the chalkboard areas and nowhere else. It is economical to use, since once it is applied it doesn't require any upkeep except cleaning with a damp cloth. Having a chalkboard wall also allows children to draw and write as much as they like without the need for paper.
Other areas of the home can also benefit from the use of chalkboard spray paint. For example, it can be used to create a message area in the family room, kitchen or other common living area, large enough to be readily visible. Multi-colored chalk can allow each family member to have his or her own color, making it easy to tell who has written a note or reminder on the chalkboard wall.
Business owners also find that chalkboard spray paint is a useful tool. Restaurants in particular can easily create a spot where soup of the day or other specials can be listed. This helps to eliminate the need to put out a signboard that takes up space and may occasionally be bumped or tripped over by patrons and workers. In a meeting room or classroom it can also quickly create an inexpensive focal point anywhere in the room. For old or damaged chalkboards, chalkboard spray paint will quickly refurbish them and make them look and work like new.
AS FEATURED ON:
AS FEATURED ON:






By: difught

A can of spray paint.

By: sklyarova

A chalk holder under a wall covered in chalkboard spray paint.

By: Les Cunliffe

Chalkboard spray paint may be used to create a surface with similar attributes to that of a chalkboard.