What Is Carrot Lentil Soup?
In its simplest form, a carrot lentil soup is simply a soup made from carrots and lentils. Carrot lentil soup is high in protein and rich in several vitamins. This soup may be made in chunky or blended varieties. Both carrots and lentils have relatively mild flavors, and soup made using these ingredients can be flavored with a variety of different herbs and other ingredients. These soups are often served with bread, and some varieties derive additional richness from dairy products, often yogurt or sour cream.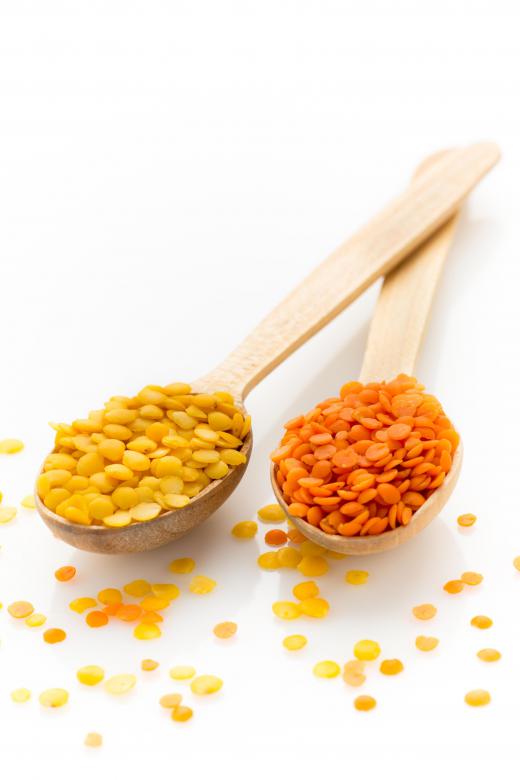 Lentils are very nutritious and versatile legumes and provide both fiber and protein to carrot lentil soup. They are easy to cook, although care should always be taken when cooking with lentils to ensure that no small stones have been included in a package of dry lentils, since sorting machines can sometimes fail to detect stones that are roughly the same size as a lentil. Carrots provide a great deal of vitamin A and also add a gentle sweetness to this soup, as they contain some sugars. These two ingredients, taken together, produce a very nourishing soup.
Carrot lentil soup may be prepared whole, in which case the lentils and chopped carrots are typically simply cooked together in a pot of stock, often with other ingredients. In other recipes, the carrots and lentils are cooked but are then blended together to produce a creamier soup. Blended recipes, too, typically call for the use of stock, most often vegetable stock, but sometimes chicken stock or other more specialized stocks.
A variety of other ingredients can be added to carrot lentil soup to inject additional notes of flavor. Onions typically blend well with these flavors. Spinach can be added to provide additional nutritional benefits and flavors. Many other vegetables also blend well with the fairly mild flavors of carrots and lentils.
The spices used in a carrot lentil soup vary from recipe to recipe. Garlic is a common choice, as is cumin. Curry powder or a blend of spices based on garam masala can be used, and pepper, either black or red, can be added to create a zippier soup.
Many recipes for carrot lentil soup make use of either milk or yogurt to add extra creaminess to the finished soup. These can be omitted in vegan dishes or can be replaced with non-dairy milk products to produce a similar creaminess. Whether or not this soup is made with dairy products, it is typically hearty and filling and is often served with fresh bread.


Carrots.

By: gitusik

Lentils are high in protein and work well in soups.

By: Maurice Metzger

Carrot lentil soup is often served with fresh bread.