What Is Benazepril Hydrochloride?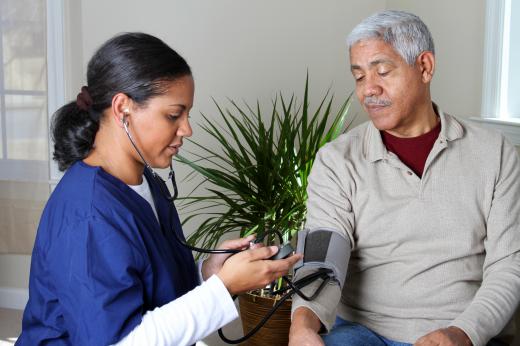 Benazepril hydrochloride (HCl) is the form of the drug benazepril commonly prescribed to humans and animals to lower blood pressure and to treat chronic kidney disease and congestive heart failure. This medication is part of the group of drugs known as angiotensin-converting enzyme (ACE) inhibitors and is one of many members of this class. Benazepril hydrochloride is a prodrug and thus is inactive until metabolized by liver enzymes. Pregnant women should not take this drug, because it can cause birth defects and even death of the fetus.
Hypertension, or high blood pressure, is a common reason for patients to take this drug. It is highly effective at lowering blood pressure. This medication is often the drug of choice for patients who have hypertension and heart or kidney problems. Doses for adults usually start at 10 milligrams daily, then are raised to 20-40 milligrams per day.
Chronic kidney disease is another condition that is widely treated with benazepril hydrochloride. Initially, there was some concern that the drug might actually damage the kidney. Further research showed that treatment with this medication was highly effective at preventing kidney disease from worsening. Some endocrinologists prescribe a low dose of this drug to patients who have diabetes as a measure to help prevent kidney damage from the disease.
Another use for benazepril hydrochloride is to manage congestive heart failure. This is usually done in conjunction with a number of other drugs. It is used for this purpose in humans and dogs.
There are some cases in which patients should not take benazepril hydrochloride. Women who are pregnant should cease using this medication as soon as they learn that they are pregnant. When this drug is taken in the early stages of pregnancy, it can cause birth defects. In later trimesters, it can cause the fetus to die. Other medications are available that can replace benazepril hydrochloride during pregnancy.
Caution should be exercised for patients who take lithium to treat bipolar disorder, because the levels of this compound might be raised to toxic levels in the body. People who take diuretics should also be closely monitored, as should those who take potassium supplements. Benazepril hydrochloride can raise blood sugar levels. Thus, people who have diabetes need to carefully monitor these levels while being treated with this medication.
Benazepril hydrochloride itself is not active in the body. It is one of the types of pharmaceutical compounds known as a prodrug. These types of compounds must undergo drug metabolism before they can have any effects on the body. Benazepril is activated in the liver to a compound known as benazeprilat.


By: Rob

A medical professional checks a man's blood pressure. Benazepril hydrochloride can be used to treat high blood pressure.

By: digitex

Benazepril hydrochloride may be prescribed to treat congestive heart failure.