What Is Baked Cheesecake?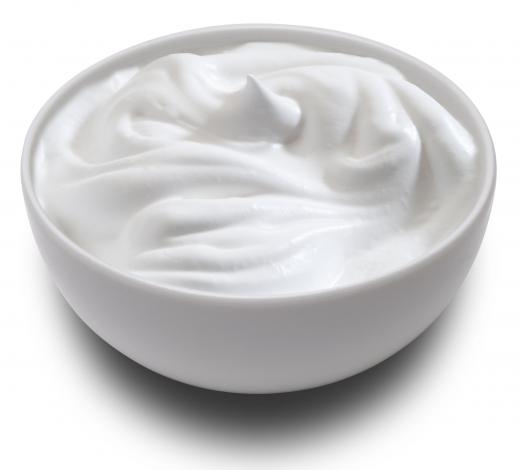 A baked cheesecake is a cheesecake that is cooked in the oven, which is in contrast with popular no-bake cheesecakes that set without being cooked. It is usually a dessert, but can sometimes be savory. Some baked cheesecakes are made with soft cheeses like cream cheese, while others are made from hard cheeses. Baked cheesecake is made in almost every part of the world, including Asia and North and South America.
Baked cheeses can include many types of cheese, from creamy, mild cheeses to hard, veiny and stinky cheese varieties. Almost any cheese can be used to make a cheesecake, but common cheeses for cheesecakes include cream cheese, stilton and various hard, white cheeses. A traditional Greek cheesecake often contains hard Myzithra cheese. Benjamin Franklin developed a baked cheesecake recipe made from cream cheese and crumbles of Parmesan cheese. Ricotta is also a common cheese used in cheesecake.
On the outside, a baked cheesecake can be solid colored, browned in gradient rings, or veined with added flavorings that have been folded into the cheese. Usually, these cheesecakes are short and cylindrical in shape. They are commonly served alongside hot drinks like coffee and cider in the cold season.
Baked cheesecake is often served with toppings. These toppings include fresh or cooked fruit toppings as well as sweet toppings like chocolate and caramel sauce or candy. Many types of fruit can be used to top cheesecake, but common fruit toppings on baked cheesecake include strawberries, blackberries, and raspberries.
One popular type of baked cheesecake is New York style cheesecake. This variety of cheesecake is flavored with lemon zest and vanilla and thickened with heavy cream or sour cream plus eggs and egg yolks. It has a texture that is both creamy and crumbly, and it holds together when sliced. A New York cheesecake generally has a crust of graham cracker crumbs, though it can have a crust made with the crumbs of other types of cookies. This type of cheesecake is baked until it is browned on the outside.
Baked cheesecakes are in contrast with no-bake cheesecakes, which are not cooked. They also include cream cheese, but have no eggs in them. Usually, they are made using gelatin, which allows the cheesecake to solidify as it cools in the refrigerator. Since a no-bake cheesecake is considerably easier to make than baked cheesecake, no-bake cheesecakes are far more commonly made at home. Baked cheesecakes involve more preparation and a minimum of a half hour baking time and five hours to chill, while no-bake cheesecakes require only a few minutes' preparation and under three hours' time chilling in the refrigerator.


A bowl of sour cream, which is often used in making baked cheesecake.