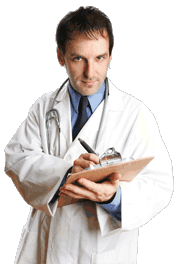 Atazanavir is a medication used to reduce the viral load in patients infected with the human immunodeficiency virus (HIV). This drug will not cure patients or eliminate the risk of passing the virus on to others, but it can delay the progression of the disease, potentially preventing the development of full-blown acquired immune deficiency syndrome (AIDS). It is used in combination therapy with other medications, and must be taken regularly for best results.
This drug is among a class of medications known as protease inhibitors. It works by interfering with the production of viral proteins when HIV attempts to replicate in the body. While the virus can successfully duplicate itself, the proteins it produces are defective, and it cannot infect human cells. Over time, atazanavir therapy will reduce the number of viruses in the blood. Low viral loads are associated with a better prognosis and less risk of HIV-associated infections.
Patients can take atazanavir once a day, taking a combination medication at the same time. The dose should be taken every day and the timing should be consistent to keep levels of the medication stable in the body. People will need to take this and other HIV medications for life, and must undergo regular medical evaluations to check on their viral loads, T-cell counts, and other signs of HIV progression. If a patient does not respond to atazanavir, other medications may be considered.
Common side effects of this medication include headaches, nausea, vomiting, abdominal pain, and rashes. Patients who notice shortness of breath, an irregular heartbeat, or the development of jaundice should consult their doctors immediately, as they may be developing dangerous side effects. Atazanavir can also interact poorly with a number of medications and patients on this drug should make sure it is listed, along with other medications they are taking, in their medical and pharmacy records. This will prevent prescription or dispensing of a drug that could cause a bad reaction in the patient.
Therapy for HIV is known as antiretroviral therapy, referring to the fact that HIV is a retrovirus. This therapy can be grueling, and patients need to be able to commit to life. In the case of expensive medications, it may be possible to qualify for compassionate use, grants, and other financial assistance to stay on HIV medications. People concerned about affordability can talk to their doctors about drug assistance programs and other available options; splitting doses, sharing medications, or taking similar measures is not recommended.


Doctor taking notes