What is Anti-Aging Cream?
An anti-aging cream is a topic treatment designed to reduce signs of aging on the skin, such as lines, wrinkles and skin discoloration. The skin is made up of collagen. As we age, the skin loses some collagen, thins and loses some of its elasticity. This causes sagging and fine lines usually around the eyes, forehead and mouth.
The number of wrinkles and lines a person develops on their skin as they age depends on several factors. Genetics plays a part in how fast your skin loses its elasticity. Lifestyle factors may also cause wrinkles overtime. Smoking and too much sun exposure are two factors which tend to age the skin.
While not all wrinkles and lines can be erased by an anti-aging cream, applying a topical cream containing certain ingredients may help. Creams can improve the skin's texture, reduce fine lines, wrinkles and make the skin appear smoother. Creams may also help moisturize the skin and may even contain a sunscreen to help prevent further skin damage.
Not all anti-aging creams are the same. Ingredients of products vary. One of the main ingredients in many anti-aging creams is retinol, which is a form of Vitamin A. Creams containing retinol are thought to increase production of collagen. This helps reduce lines and wrinkles and tightens the skin.
Other ingredients which are common in facial creams are, alpha hydroxy acids and beta hydroxy acids. Both of these ingredients are believed to increase the exfoliation process in the skin. This helps stimulate new skin growth and can make the skin softer and smoother.
Some people may experience certain side effects when using an anti-aging cream, such as sensitivity to the sun and skin irritation. It's important to follow directions to reduce side effects and get the maximum benefits from the cream. For example, some creams are intended for daily use, others are meant to be used a few times a week.
How effective an anti-aging cream is depends on several factors, such as the extent of damage to the skin. Other factors effecting results include consistency with use, the product used and concentration of active ingredients. Although results vary, deep wrinkles can't usually be erased completely with a wrinkle cream alone.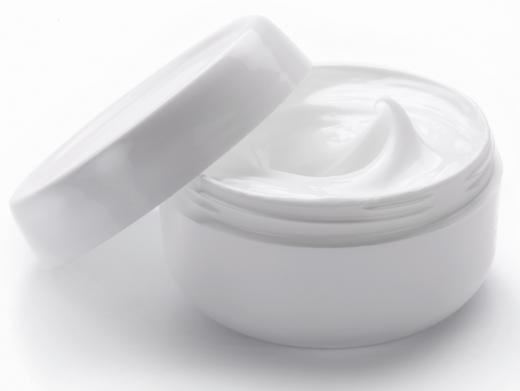 There are several places an anti-aging cream can be purchased without a prescription. Some products are sold online, in department stores, drug stores and beauty supply stores. Products which contain a higher concentration of ingredients, such as retinol, may, however, require a prescription from a dermatologist.
The cost for anti-aging treatments can vary greatly. Creams may range anywhere from $10 US Dollars (USD) to hundreds of US dollars. The name brand and ingredients help determine costs.
AS FEATURED ON:
AS FEATURED ON:






By: Alila

Anti-aging creams are often designed to boost the production of collagen, helping to make the skin smoother.

By: Konstantin Yuganov

Creams can improve skin's texture.

By: Robert Kneschke

Retinol face cream may help reduce the appearance of wrinkles.

By: volff

Anti-aging creams are topical treatments used to reduce the signs of aging on the skin.

By: Arpad Nagy-Bagoly

An individual who has dry skin should use a moisturizing anti-aging eye cream.

By: Valua Vitaly

Sagging of the skin is common around the forehead.