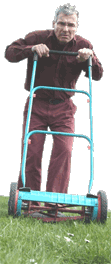 Anacampseros is a genus of succulent plants native to South Africa. Several species in this genus are cultivated by gardeners all over the world. Like many succulents, they can be grown indoors or outdoors as decorative plants and they are very suitable for low water gardening. In regions where water conservation is a concern, cultivating succulents can allow gardeners to maintain a garden without running afoul of conservation regulations.
Plants in this genus are characterized by rosettes of highly fleshy leaves. Depending on the species, the leaves can be lance-shaped to almost round. Some plants are covered in fine hairs, while others have scaly formations on their leaves. Anacampseros plants rarely grow above three inches (approximately seven centimeters) tall, remaining small for life. This can help the plants conserve energy, allowing them to thrive in harsh conditions and making them ideal for gardening in locations where the climate is tough on plants.
The leaves vary widely in color from bright green to pink. Flowers appear in the summer months and may be pink or purple, opening during the heat of the day and closing again in the evening. Most Anacampseros species favor bright indirect light and rich, well-drained soil. The soil should be allowed to drain completely between waterings and should be fortified with enrichments in the spring to encourage the plant to emerge fully from winter semi-dormancy.
Anacampseros species can be cultivated outdoors between USDA zones nine and 11. They are not frost tolerant and need a bright, warm area of the garden. Other succulents make excellent companion plants, although it is important to avoid crowding these plants with other plant species. Bigger succulents can take over, forcing the Anacampseros out. These succulent plants are good for borders and outdoor container gardening in locations where they will be readily visible. Succulent gardens can be accented with rocks and other decorative elements to make them more visually interesting.
Indoors, these plants can be cultivated as houseplants or greenhouse plants. They require relatively dry conditions, as well as indirect light. A succulent potting mix with periodic fertilizer should be sufficient to keep the succulents healthy while they are grown indoors. Anacampseros species are available at many nurseries and garden supply stores. Gardeners can also order them through catalogs or make trades with other gardeners. Trades can be an excellent way to access rare cultivars that are not commonly available on the open market.
Man mowing the grass