What is an Urban Compost Tumbler?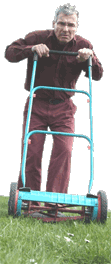 An urban compost tumbler is a piece of composting equipment designed for settings with limited space, such as urban backyards and decks. The unit turns, allowing people to rotate and aerate compost without having to do so by hand with a pitchfork or shovel. This makes it much easier to maintain a compost pile and can speed the rate at which composted components break down over time. When the compost has broken down, providing a layer of rich soil, people can extract it and use it for gardening.
A common design for an urban compost tumbler consists of a barrel held in a frame. People add layers of organic material like kitchen scraps, grass clippings, leaves, and newspaper. Periodically, they spin the barrel, allowing the layers to mix and redistribute themselves. Care must be taken during this process, as holes for aeration can leak fluids and fragments of material and it may get messy. Over time, the contents of the compost tumbler will break down into useful compost.
The small footprint of an urban compost tumbler is useful for areas where people have very limited space. The enclosed design also keeps the compost neat and limits smell, two common concerns for people who want to compost in urban environments. This piece of equipment can be used in other settings as well, and can be useful for gardeners who lack the physical strength to turn a compost pile by hand or who want to cut down on the space taken up by a compost pile in the garden.
Several manufacturers produce urban compost tumbler designs, and it is also possible to make one, for people who are comfortable with do-it-yourself projects. A circular container for compost is needed, along with a frame to suspend it so it can be spun. A very basic design can be made by cutting out wooden rounds, attaching them with dowels, and stretching netting over the frame. A hinged flap can be created for adding compost. As the compost breaks down, dirt will naturally trickle through the mesh and collect under the compost tumbler.
People who are just starting to compost with an urban compost tumbler should remember to use a good mixture of green materials like kitchen scraps, as well as things like leaves and paper. The compost may dry out, in which case it needs to be watered, or become wet and slimy, requiring paper or grass clippings to absorb some of the moisture. Compost also tends to get warm when it is healthy, and people may notice steam around the compost tumbler on cold mornings.
Man mowing the grass