What is an Unsecured Line of Credit?
A personal or unsecured line of credit is a loan at a set amount that can be re-borrowed as the loan is repaid. Unlike a credit line that is secure, people or businesses are not required to have collateral, like ownership of property, to obtain the loan. In absence of collateral, these lines of credit tend to have higher interest rates than do secured loans because they are a higher risk loan to the lender.
A credit line is an amount that can be borrowed again and again, without getting permission, for as long as the borrower and lender maintain the arrangement. Credit cards work like this and are a variation of the unsecured line of credit. Credit card holders can use part or all of their available funds at any time, and money becomes available for further purchases when payments to the account are made.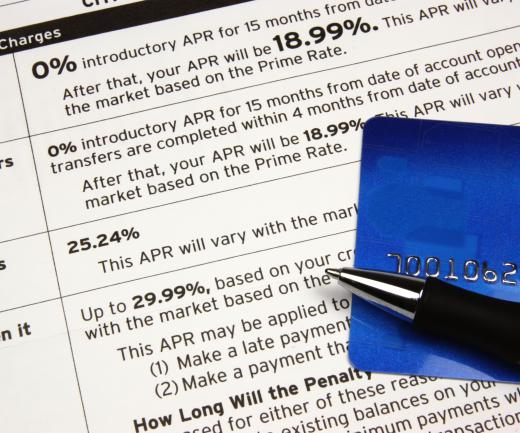 Borrowers also make payments to the line of credit to repay any expenditures. Amount of payment may vary, and some lenders have minimum repayments amounts, which could represent at least interest or a percentage of total money owed. When there is no money owed there are no payments. The money is still available for use, until the lender or borrower terminates the arrangement or until a prior specified time.
A difference between the unsecured line of credit and the credit card is there may be no "charge card" attached to the loan. Instead, people can just draw on the credit line through bank transfers or checks. Occasionally, a line of credit does come with a bankcard.
Many individuals use a personal credit line to deal with unpredictable financial times. They may be particularly useful for people with steady incomes that vary by the month.
Business owners could also obtain an unsecured line of credit for corporate use. Provided the loan is unsecured, the business doesn't have to use itself or its assets as collateral.
It's easy to guess the downside of an unsecured line of credit. Loans that are of higher risk to lenders cost more money. Interest rates for a secured line of credit are typically much more favorable. The other downside is that many lenders, since the credit crisis of the first decade of the 2000s, require much higher credit scores for people who want a line of credit. If that line is unsecured, demand for creditworthiness increases. Individuals will need very strong credit ratings and businesses may need to have a variety of established credit arrangements in order to find an unsecured line of credit at prime or near prime rates.
There are a few unsecured line of credit loans at bad credit rates, but these rates can be extremely unfavorable, and total credit line could be fairly low. Those interested in the best loans will only get them with demonstrably strong credit. Alternately, they must be willing to try for a secured loan instead, if they have sufficient collateral.
AS FEATURED ON:
AS FEATURED ON:






By: Kreative Photography

Credit cards are a form of an unsecured line of credit.

By: Merkuri2

Having too many unsecured lines of credit can get people into debt trouble.