What is an Oncology Surgeon?
An oncology surgeon is a surgeon who specializes in providing surgical options for cancer treatment. Oncology surgery is not formally recognized as a board specialty as of 2010, but there are professional organizations of oncology surgery which offer membership to surgeons who meet their standards. This lays the groundwork for developing specifications for board certification to allow oncology surgeons to receive advanced certification. Although an oncology surgeon cannot be board certified in oncology, she or he should be board certified in surgery.
In order to become an oncology surgeon, a surgeon must complete medical school and surgical training, and then complete a fellowship in oncology surgery. Many oncology surgeons train as general surgeons, but they can also train in various surgical specialties such as neurosurgery or gynecological surgery. The fellowship provides the surgeon with exposure to surgeries on cancers specifically, including advanced training in the latest techniques for surgical management of cancers.
From the point of view of the surgeon, specializing in working with malignant growths provides the surgeon with an opportunity to offer very high quality care. Some surgeries performed to treat cancers are relatively rare, and a general surgeon or surgical specialist might only perform the procedure a few times over the course of a career. By contrast, an oncology surgeon performs the procedure regularly and perfects the technique, which increases the probability of positive patient outcomes.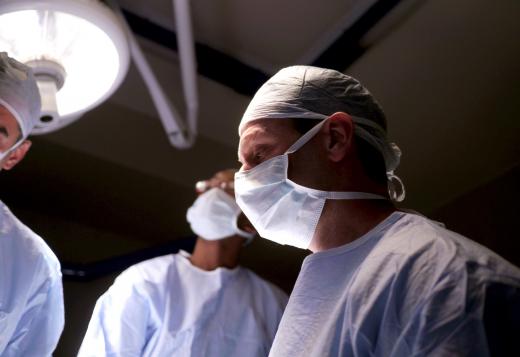 Special training in oncology also allows an oncology surgeon to coordinate smoothly with a team of care providers to provide a multipronged approach to cancer treatment. Being aware of all treatment options, the surgeon can provide the patient with balanced information and advice about how to move forward with treatment, and the surgeon can keep other treatments in mind while developing a surgical treatment plan.
Oncology surgeons can perform a variety of procedures which are designed to remove malignancies or to limit their spread. An oncology surgeon may work for a facility which specializes in treatment of cancers or may work within a special department in a larger hospital or medical treatment facility. Like other surgeons, oncology surgeons are expected to maintain their skills with continuing education, which offers a chance to learn about developments in the field including new techniques, new technology, and so forth. Patients who need to work with an oncology surgeon should do their research to ensure that they select the most suitable surgeon for their cases.
AS FEATURED ON:
AS FEATURED ON:






By: Antonio Gravante

An oncology surgeon will often remove cancerous tumors from patients.

By: fivepointsix

An oncology surgeon has advanced training in the latest techniques for surgical management of cancers.