What Is an Ice Cream Smoothie?
An ice cream smoothie is a thick, blended drink made with ice cream as a base and usually flavored with complementary fruit or syrups. All ingredients are typically added to a blender, food processor, or smoothie maker and combined until well blended and smooth. The thickness will vary depending on the amount of ice cream used, but the consistency is often akin to that of a shake or malt. Given all the varieties of ice cream available, the possible combinations used to make an ice cream smoothie are nearly endless.
Smoothies are blended drinks often made with some type of thickening base and flavored with fruit. An ice cream smoothie uses ice cream as the thickening agent. The most common ice cream flavor used is vanilla because it will complement most fruits without overwhelming their taste. Some recipes will call for flavored ice cream, however. There is no fixed rule about ice cream smoothie ingredients.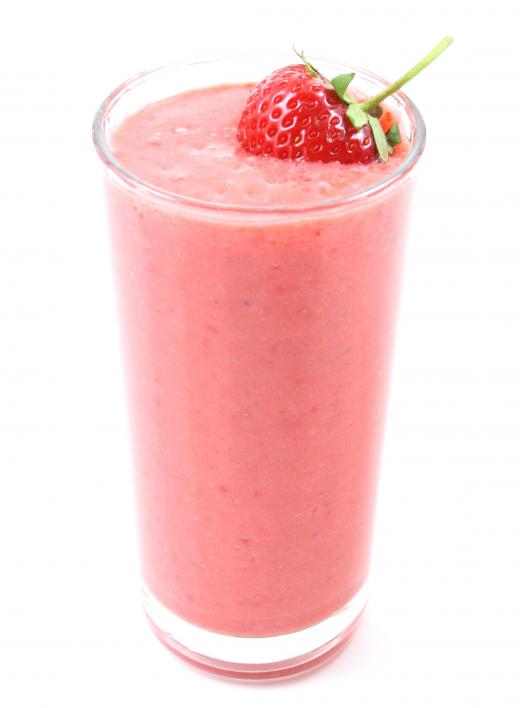 Most ice cream smoothies are very similar to shakes and malts. A typical ice cream smoothie recipe starts with vanilla or other lightly flavored ice cream. This ice cream is then blended with some milk and fruit or flavored syrups. Berries such as strawberries, raspberries, and blueberries are typical. Bananas and peaches are also common. The ice cream smoothie is easily customizable to suit any taste.
Large fruit is usually chopped before blending. Fresh fruit is usually preferred, but using frozen or even canned fruit is also common depending on the time or year and what is available locally. If the smoothie is too thick to drink, adding milk can help thin it out.
Rather than fruit, liqueurs and other alcoholic beverages can be blended with ice cream to make sweet ice cream cocktails. A popular example is the grasshopper, a blended combination of vanilla ice cream, creme de menthe, and creme de cacao. A rum banana cooler uses creme de banana and rum with ice cream, while a pink squirrel is made with creme de cacoa and creme de almond. Other variations include ice cream and brandy or vodka.
For those who are lactose intolerant or whose diet does not permit dairy products, non-dairy ice cream substitutes can be used when making an ice cream smoothie. Vegans, for example, eschew dairy products and may prefer to make an ice cream smoothie with soy or coconut milk ice cream. Ice cream can also be made from hemp or almond milk. Fruit sorbet is an additional flavorful alternative to regular ice cream.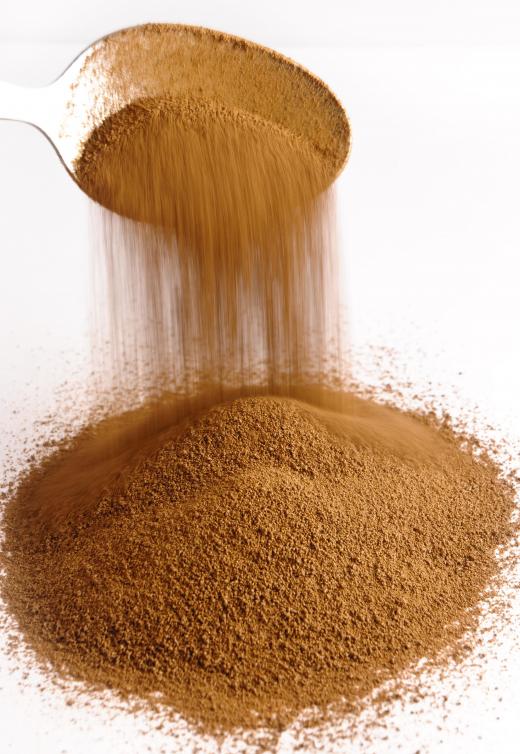 Regular ice cream is laden with calories and sugar, so making an ice cream smoothie can be inappropriate for those with certain dietary restrictions. Low-fat or sugar-free ice cream can be a healthier substitute. A healthier smoothie can be prepared using just fruit and ice, yogurt, or milk. Some smoothie recipes can also call for peanut butter. Adding a protein or vitamin powder can boost a smoothie's nutritional value.
AS FEATURED ON:
AS FEATURED ON:






By: matka_Wariatka

A strawberry ice cream smoothie.

By: margo555

Blueberries, which can be mixed into ice cream smoothies.

By: rgbdigital.co.uk

People who enjoy blended drinks may consider investing in a smoothie maker.

By: alb470

Cocoa powder and ice cream blended together make a delicious smoothie.

By: lculig

Protein powder can boost the nutritional value of an ice cream smoothie.