What Is an Electronic Action?
An electronic action is a user-initiated event on a computer, such as checking email or opening a program. The user sets off a series of processes in the computer for the desired function to occur. This differs from other functions, which are not user-dependent, but are instead controlled by components of the operating system or a program. Individual users can engage in hundreds of electronic actions on any given day.
Design of computer systems requires thinking about the types of actions users may want to engage in, and how to enable them. Users expect intuitive controls that are easy to understand. A well-designed operating system or program can facilitate actions for a more user-friendly experience. Actions may logically flow together, making it necessary to cluster controls in a logical way. For example, users opening a word processing program usually want to open a document or start a new one, and thus these electronic action controls should be readily accessible.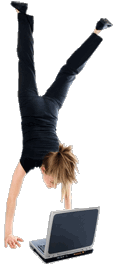 Studies on human-computer interaction look at electronic action patterns and the decision making processes behind them. Users may need to open programs and perform other tasks for work, play, and other reasons. Tracking users can provide information about how they use computers and what they expect from various interactions. Systems can be designed for different kinds of users, such as a multimedia focused operating system for people who want to be able to watch and create videos and other materials, versus a more stripped down operating system for use in an office environment.
Operating systems typically need to be able to permit a number of electronic actions at once. Users may expect to be able to open email programs, run a browser, send instant messages, edit photographs and other content, and so forth at the same time. A sluggish operating system that freezes or fails to respond to an electronic action can become a problem and may create user frustration. Programmers work on system designs that allow the system to rank and control commands from the user to perform tasks in a logical and orderly fashion.
Facilities that perform research into this subject can use tools like recording computer users while they work in a natural environment to learn how humans interact with computers on a daily basis. This research may focus on particular demographics, such as teenage users, or people working in an office, to compare and contrast different use styles and the kinds of electronic action needs different users may demonstrate. This can provide important information for programmers, designers, and other people with an interest in the development of computer systems.
AS FEATURED ON:
AS FEATURED ON:






Woman doing a handstand with a computer