What is Alendronate Sodium?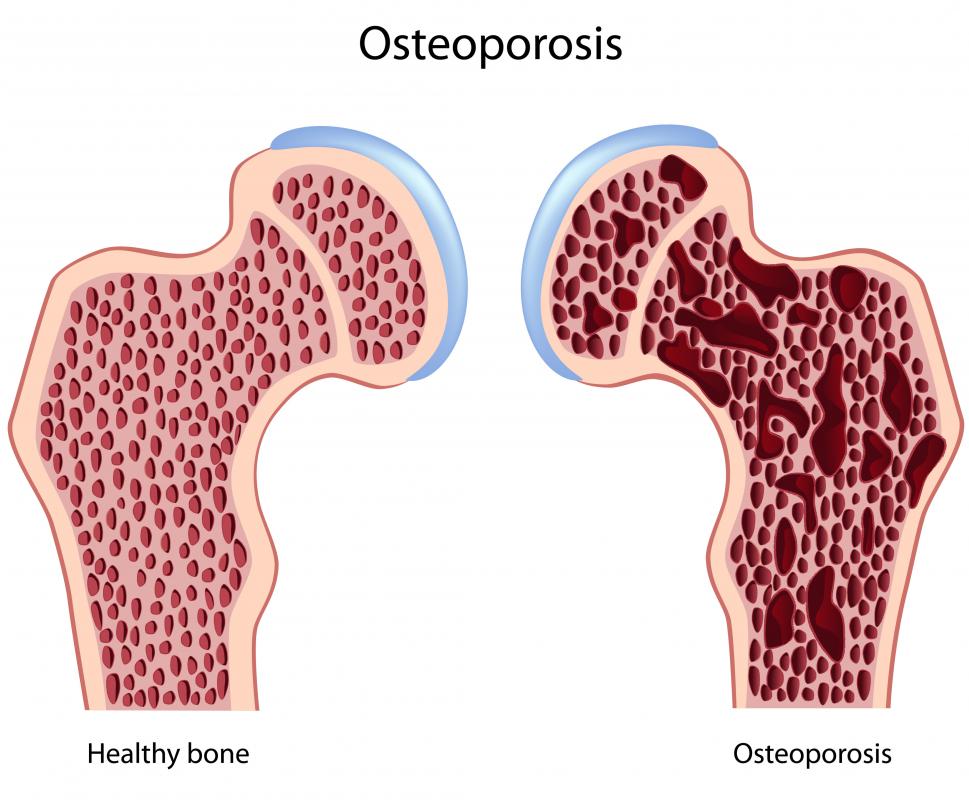 Alendronate sodium, also known as alendronic acid, is a drug that is used in the treatment and prevention of the degenerative bone disease osteoporosis in women and men. In men, this medication sometimes is prescribed as a preventative treatment to stop loss of bone mass that might lead to osteoporosis. This medication also is used in the treatment of a bone-weakening condition called Paget's disease. Alendronate sodium is a type of drug called a bisphosphonate and is sold under the brand name Fosamax®.
Bisphosphonates are synthetic molecules that are analogs of a natural molecule called pyrophosphate. These drugs work by reducing the rate at which bone material is absorbed from bones. Bone is not a static material; it is in constant turnover, with cells called osteoblasts depositing new bone and cells called osteoclasts absorbing bone. Bisphosphonates reduce bone absorption by causing osteoclasts to die prematurely. This helps prevent loss of bone density caused by osteoporosis and reduces the risk of bone fractures.
Like many other medications, alendronate sodium has some specific directions that must be followed when taking the daily dose. First, it must be taken first thing upon waking in the morning, along with a glass of plain water. The second important aspect of taking this medication is that at least 30 minutes must elapse between taking the medication and eating or drinking. This includes taking any other medications, particularly antacids and calcium supplements. Finally, someone who is using this medication should not lie down for at least 30 minutes after taking a dose.
Even when taken correctly, alendronate sodium can cause some unpleasant side effects. The most common side effects of this medication are gastrointestinal problems such as acid reflux, nausea, indigestion, gas, constipation, diarrhea and abdominal pain. Other side effects that might be experienced are headaches, dizziness, pain in joints or bones and muscle pain. There also is a very low risk of esophageal or stomach ulcer development for people taking this medication. In general, any side effects that the user experiences should be reported to his or her doctor.
In addition to these side effects, this drug can have some adverse effects when used in conjunction with certain other medications. For example, people taking aspirin or non-steroidal anti-inflammatory drugs have an increased risk of developing gastrointestinal problems. In addition, there is some evidence to suggest that alendronate sodium might be less effective in women who are using hormone replacement therapy for menopause.
Alendronate sodium is used to treat and prevent osteoporosis.

Osteoporosis treatments are important because the disease can limit mobility and independence.