What is Acne Laser Treatment?
Acne laser treatment is a laser procedure used to help eliminate acne. There are many different types of laser therapies used, some of which include diode laser treatment and pulsed dye laser treatment. Many people who have acne laser treatment claim that they can see a huge improvement in their skin after just a few weeks. For other people, it may take longer to see improvements. Laser treatment for acne is becoming very popular because it is typically painless and normally has very few side effects associated with it.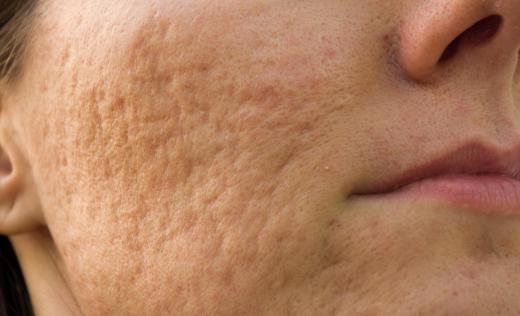 Diode acne laser treatment is used to destroy sebaceous oil glands underneath the skin's outer layers. When these glands are damaged, they are unable to produce as much oil. An excess of oil on the skin often causes acne, and for this reason diode laser treatment is often very effective for helping eliminate acne. As with most laser procedures, diode acne laser treatment occasionally takes more than one session to be completely successful. Some people also have some mild side effects from this form of laser treatment, which might include temporary skin swelling and redness.
Pulsed dye laser treatment for acne may be helpful because it can kill some of the bacteria underneath the skin's surface that causes acne. The pulsed dye laser procedure might also aid in shrinking the sebaceous glands underneath the skin, which might cause them to produce less oil. In addition to acne, many people also use this type of laser therapy to help get rid of acne scarring and other skin lesions. The pulsed dye treatment is not successful for everyone, and many people require repeat procedures before they begin to see positive results. Pulsed dye laser treatment for acne is normally painless, but there are some people who might experience redness and swelling afterward.
Even though acne laser treatment is often effective for the treatment of acne, it may not work well for everyone. The effectiveness of the treatments could depend on the severity of a person's. People who have very aggressive acne may require more laser treatments than others, and this could get expensive because insurance companies often do not cover this type of acne treatment. A person with acne who is interested in receiving acne laser treatment may need to shop around for different doctors and go in for consultations in order to get an idea of what his expectations should realistically be as well as how many treatments he will require to get the results he desires.


By: Ocskay Bence

Laser acne therapy can be a more expensive way of eliminating acne than traditional methods.

By: Budimir Jevtic

Acne can leave behind scars and marks.