What is Acarbose? (with picture)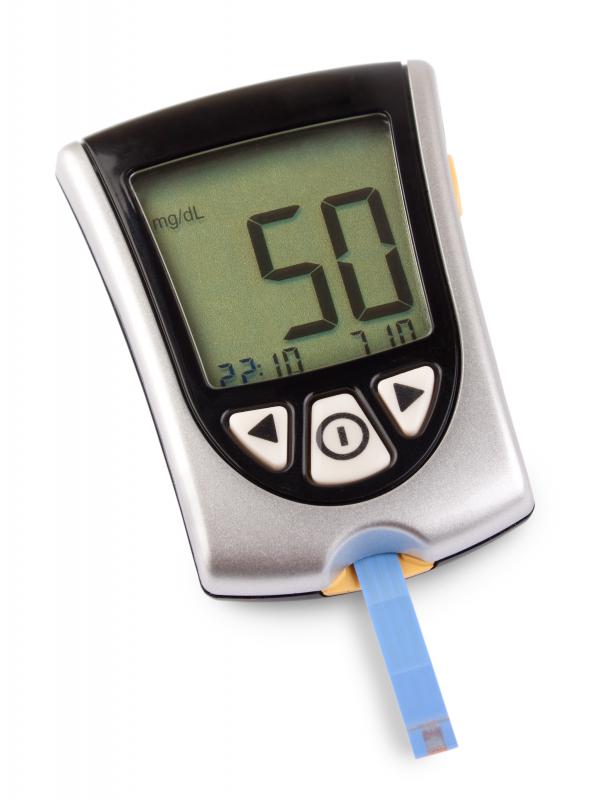 Type 2 diabetes is a metabolic disorder in which the cells in the body ignore insulin or the body does not naturally produce enough of it. Acarbose is a diabetes drug that can be taken as part of a medication regimen or with a healthy diet. This anti-diabetic drug is said to work by slowing down certain chemicals. These chemicals serve to break down food, and by slowing their process, glucose, or sugar, will only gradually be released into the bloodstream. This process is said to help keep blood sugar at an even level.
Acarbose is an alpha-glucosidase inhibitor — a class of drugs that helps decrease the amount of carbohydrate absorption from the intestine. This medication is said to slow down enzymes that turn carbohydrates into glucose after eating. By slowing down these enzymes during digestion, glucose is released into the bloodstream at a slower, more even pace. When this occurs, it may help the patient to control blood sugar, manage weight, and bring down glycohemoglobin levels.
The dosage of acarbose is typically based on a number of factors, such as response to treatment, severity of condition, and weight, and can vary from patient to patient. In most cases, patients are advised to take this medication three times a day during the beginning of a meal — usually within the first few bites. Although taking more than 300 milligrams per day is not recommended, in some patients, dosage may be gradually increased to help find the most effective amount.
As with any medication, acarbose may potentially cause side effects. For instance, it is not uncommon for patients to experience an upset stomach, diarrhea, and gas in the first few weeks of treatment. These side effects will usually subside once the body has become accustomed to the drug, but if they do not, dosage may be altered. More severe reactions are thought to be rare, but can include a yellowing of eyes or skin, uncommonly dark urine, fatigue, or vomiting.
Although acarbose by itself will not generally cause hypoglycemia, or low blood sugar, taking it with other forms of diabetes medication may cause this condition. Those who are taking this medication in addition to charcoal supplements are usually advised to take it two to four hours after taking acarbose. This drug may negatively interact with a number of other drugs, including certain heart medications, insulin, and anticoagulants.
Taking Acarbose with other diabetes medication may cause hypoglycemia.