A wound clinic, also known as a wound care center, is a health care facility that specializes in the treatment of non-healing, or slow-healing, wounds. Wound clinics are often, but not always, staffed and administered by nurses with specialized training and certification in wound management, along with physical therapists and medical assistants, with physicians on-call to provide medical care when appropriate, though some wound clinics are physician-directed. Many wound care centers operate on an outpatient basis and provide educational, medical, and supportive services to patients and their caregivers.
The human body is normally capable of healing wounds, or skin trauma, on its own. Eventually the body's own defense mechanisms kick in to fight infection and to seal the skin. Unfortunately, the healing process can be slowed or interrupted by any number of causes, including infection, poor diet, and other medical conditions, such as diabetes. Common types of wounds that may take a while to heal include pressure sores caused by sitting or lying in one position and foot and leg ulcers connected to diabetes and burns. Since the causes or conditions of these wounds are often not easily resolvable, the services of a wound clinic may be essential in developing a treatment protocol that recognizes the limitations of treatment approaches while addressing the need for wound care and healing.
Using the services of a wound clinic is one way in which a patient with a slow or non-healing wound can prevent further complications or disfigurement. For many patients, understanding the underlying cause of their wound's failure to heal and how they can manage the condition is an important key to healing and recovery. A wound clinic can also provide specialist care that may not be available through the offices of primary care doctors, such as specialized dressings, skin substitutes, and advanced techniques for removing dead tissue in a process known as debridement. Patients may also receive specialist care from physical therapists at the wound clinic that can include lymphatic drainage as well as training in how to perform the drainage themselves at home.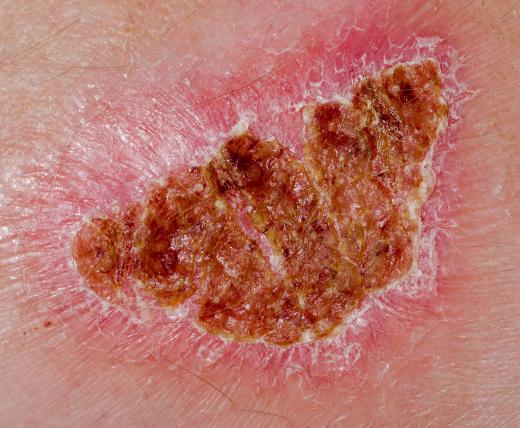 The types of wounds treated by a wound clinic can vary, as can the clinic's services. Some clinics operate under a multidisciplinary approach, using the services of doctors and other health care professionals trained in different branches of medicine. Other clinics provide general education on diabetic skin care, even to those who are not coping with a wound. Wound care clinics sometimes also assist patients with managing stomas, surgically created wounds such as ostomies, and tracheotomies into which medically prescribed tubes or devices are inserted.
AS FEATURED ON:
AS FEATURED ON:






By: Kelpfish

A wound clinic specializes in the treatment of non-healing wounds.

By: roblan

A good wound care nurse recognizes the overall benefit of not rushing the wound care treatment.