A world cruise is a type of cruise in which participants can travel all around the world, visiting various locations on the four to six continents. Many major cruise lines offer world cruises; passengers can book tickets for the entire world cruise, or they can meet up with the ship somewhere along the way and travel for a brief distance. Passengers who book tickets for the entire cruise can be on board from four months to up to a year, depending on the ship's itinerary, and they may become quite familiar with other passengers and crew.
World cruises became popular in the late 1800s, when the concept of traveling by boat for pleasure first emerged. Many honeymooning couples started to take brief cruises to celebrate their new marriages, and some took the plunge and went on world cruises, traveling to exotic and interesting places before settling in to begin their new lives. Other members of the young and adventurous set took up the pastime, although cruising began to be dominated by older passengers in the mid-20th century.
Several famous cruise lines offer world cruises, typically on their most extravagant cruise ships. These ships include a range of accommodations for passengers, along with restaurants, shops, and other entertainment facilities to keep passengers occupied while they travel. Cruisers who intend to spend a long time on board may spring for particularly nice suites; tickets for a world cruise can get quite expensive, thanks to all of the available amenities on board. Some cruise lines also allow animals, especially for their elite customers, for an extra fee.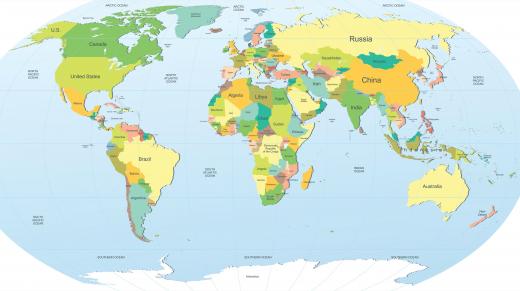 For passengers, one of the most exciting parts about a world cruise is making port. Cruise ships often amble along a coastline, allowing people to disembark at popular locations for several hours or days, depending on the itinerary. Passengers who choose to go ashore can investigate new cultures, foods, and places, with many communities offering services geared towards cruise passengers, like day hiking, horseback rides, and helicopter tours of remote areas.
Some cruise lines offer themed world cruises, in which passengers visit a series of related locations, while others may feature world cruises which spend more time in certain regions, like Southeast Asia and Africa. Passengers can purchase world cruise tickets through travel agents or through the cruise line directly. Since the ticket options can get confusing and complex, it helps to consult a travel agent about the best accommodations on board a cruise ship. Passengers may also be able to book promotional tickets which include airfare to meet the ship at the point of departure through a travel agent.
AS FEATURED ON:
AS FEATURED ON:






By: Ruth P. Peterkin

A world cruise will visit locations on four to six continents, although passengers don't have to book their ticket for the entirety of the cruise.

By: Marina Gorskaya

Many cruise lines offer world cruises that allows passengers to see the entire world, or simply sign of for certain segments of the world cruise.

By: yanlev

Making port on a world cruise may involve engaging is outdoor activities like horseback riding.