What is a Waterproof Running Jacket?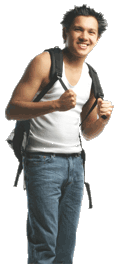 A waterproof running jacket, which is usually made from polyester or a combination of polyester and spandex, is a jacket that repels water. The wearer can use it during wet weather such as snow or rain and still stay dry and comfortable. The jackets usually have vents that can prevent sweat from building up on the individual. Some are also windproof to prevent irritating wind from hampering a good run.
Runners and other athletes who work out in wet weather can wear a waterproof running jacket to stay dry, but others who are working or doing everyday errands can also get use out of this article of clothing. The jacket is more lightweight than a typical jacket for more comfort while in motion. It usually has a mock collar to protect the neck from the weather; some may also have a draw cord or be elasticized at the wrists to prevent water from seeping in. The hem may also be elasticized or have a draw cord to prevent riding up while running; others may have no elasticity at all.
Some jackets are made for women while others are made for men. A waterproof running jacket can have a more form-fitting style or can be loose. The jackets come in a variety of sizes. The cost for a jacket can range depending on the brand and features.
Having pockets in a waterproof running jacket can be quite useful. Many runners take an mp3 player while they run, so a pocket during wet weather can protect the device. Inside or outside zip pockets can also hold keys, money and any other items that could get wet or fall out during exercise.
If the runner prefers to run in the evening or at night as opposed to during the day, a waterproof running jacket that has reflective material on it may be a safer bet. Reflective strips on jackets can help motorists see where runners are so they can to avoid them. A brightly colored jacket, such as one that is blue, red or green, may also be a better option over darker colors.
In order to purchase the correct fit, measuring for the right size or trying the item on could be advantageous. A good, well-fitting jacket could help contribute to the individual having a better, more comfortable run. Considering the range of prices, colors, sizes and styles, there is a waterproof running jacket for almost anyone seeking to purchase one.


Man with a backpack