What is a Waterproof Coat?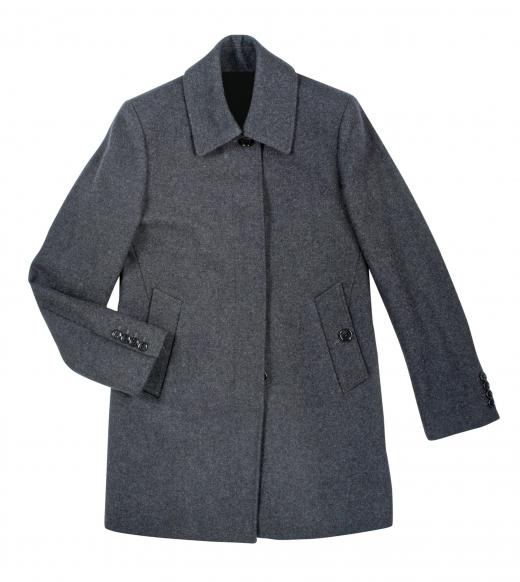 A waterproof coat is a protective outer garment worn over other clothes to keep a person warm and is specifically meant to prevent water from getting to the person and clothes beneath it. While a waterproof coat can be made from a material designed to be waterproof, it may also be made from a general material like nylon and then be modified to make the material waterproof. Typically, waterproof coats can come in heavy forms meant to be worn during especially cold weather, or lighter forms that are intended for use in warmer weather while still preventing water from getting through the material.
Some manufacturers produce waterproof clothing such as coats that are water-resistant at the time of purchase. These garments are typically available at most outdoor supply stores and even some larger department stores. A waterproof coat designed to be water-resistant should be properly cared for as recommended by the manufacturer, which may include yearly maintenance such as cleaning and reapplying waterproofing products.
One example of water-resistant outdoor wear is clothing made by Gore-tex®. Gore-tex® produces waterproof garments through a process that creates a patented membrane on the clothing. This membrane consists of tiny holes that are too small to allow droplets of water through, but are large enough to allow vapor and air to pass through the garment. A waterproof coat made by Gore-tex® is typically considered breathable and waterproof since it can allow evaporation of perspiration from within to escape the garment, but will not allow water to pass into the coat.
Clothing such as a coat that is not initially waterproof can be rendered water-resistant through a fairly simple process. A garment can typically be rendered waterproof by first cleaning it thoroughly as advised by the coat label, drying, and then applying a water-repellent spray. Such sprays are available commercially and should be applied in an open, well-ventilated area as there may be some fumes during drying. Once the coat is dry, usually after about 24 hours, it will then be a waterproof coat and though it may not be as breathable as other materials, it will protect from water.
Light summer coats that are water-resistant are available for use during warmer times when rain can be expected but a heavier garment is not needed. Heavier winter waterproof coats should usually be worn during cold times to help ensure that snow and rain do not get to internal clothing. Wearing of wet clothing while in extremely low temperatures can lead to hypothermia and lower a person's resistance to illness.


By: Alexandra Karamyshev

A waterproof coat is water-resistant.