What Is a Tuna Pasta Casserole?
Tuna pasta casserole is a favorite baked dish of many people because it is simple and inexpensive to make, and is frequently enjoyed by kids as well. There are many different ways to prepare tuna pasta casserole, which is also sometimes referred to as tuna noodle casserole, or simply tuna casserole. It also makes a great dish to pass at a potluck meal. It is generally made of a few cans of tuna mixed with a creamy sauce, some form of pasta, and spices. Some people will add extra vegetables to their tuna casserole; peas are a particular favorite.
The creamy sauce for tuna pasta casserole can be made from scratch by mixing chicken stock, milk or half-and-half, and melted cheese together. Flour and butter may also be necessary, though the specific amounts for each of these ingredients will need to be determined with a recipe. To these homemade recipes, extra vegetables like mushrooms or spinach are often added to make the dish a bit more filling and more nutritious. For those who do not want to make homemade sauce, cream of mushroom soup is a simple substitute. The tuna should also be mixed in; generally, solid white canned tuna in water is the choice for tuna pasta casserole. The tuna should be thoroughly drained before it is mixed in with the other ingredients.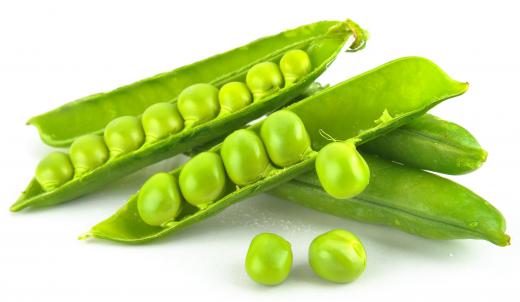 The pasta for the tuna pasta casserole should be boiled separately, and then added to the casserole mixture. Egg noodles are a popular choice for this dish, but to make it a bit healthier, whole-wheat pasta can be used as well. Penne pasta, rotini, or shells can all make a nice choice for tuna pasta casserole. All these ingredients are then thoroughly combined in a baking dish, as well as any desired spices such as salt, pepper, onion, or garlic. It then needs to be baked in the oven until it is heated through.
Many people like to add a crunchy topping to tuna pasta casserole as well. Breadcrumbs can accomplish this quite nicely, but others will use dried onions or even crumbled potato chips for the topping. Many families have their own familiar recipes for making tuna casserole that have been shared through generations, and as a result it is often described as a type of comfort food similar to a hearty mac and cheese. Tuna casserole is a popular dish to make in the fall and winter for this reason.
AS FEATURED ON:
AS FEATURED ON:






By: sevenk

Green peas are a common addition to tuna casseroles.

By: ivobalderi

Canned tuna can be used to make a quick tuna casserole.

By: isrgil

Rotini might be a good choice for pasta casserole.