What is a Triband World Phone?
A triband world phone is a mobile phone that is able to work internationally because it has the technology to support phone calls on multiple frequencies. This term is used to refer to phones that use the global system for mobile communications (GSM) standard. GSM is used in most countries, with the notable exceptions of Japan and South Korea, and a triband world phone can provide very adequate coverage, depending on where it is used.
Four bands are part of the GSM standard: 850, 900, 1800, and 1900 megahertz (MHz). As of 2010, mobile companies were also starting to explore higher bands for the purpose of high speed data transmission on third generation (3G phones). A triband world phone is equipped to handle three of these four bands. Which three depends on where the phone is most likely to be used. It is also possible to obtain a quadband world phone that can work on all four bands, providing very broad coverage.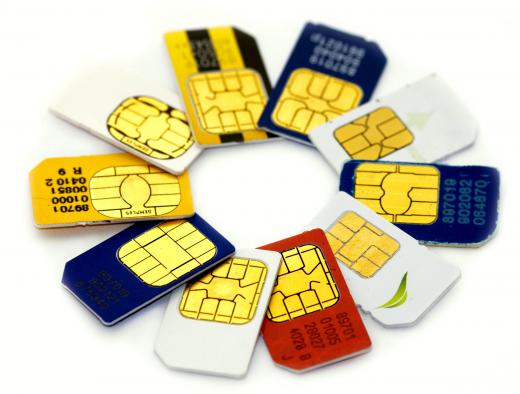 In the Americas, triband phones tend to include 850, 1800, and 1900 MHz bands. European, African, and Asian phones are more likely to use 900, 1800, and 1900 MHz bands. A person with a triband phone will be able to use the phone anywhere that one of the bands is available, as long as that person's carrier has an agreement with the carrier that operates that band in a given area. Thus, a customer of Generic Wireless who travels from Britain to Angola could potentially use a triband world phone to make and receive calls while roaming on the Other Wireless Company's network in Angola.
For people who are most likely to be using their phones domestically, a dual band phone is usually sufficient. This provides coverage across the country, including in rural areas where only one band may be available. Someone who is likely to travel will want a triband world phone or a quadband world phone to ensure that the phone will be usable. Because different nations use different bands, it is advisable to consult a GSM chart to see which bands are in use for the purpose of finding an appropriate phone.
It is also important to be aware that while a phone can work overseas, it can sometimes come at a high cost. People who are planning on taking their phones with them on international trips should get information about roaming charges before they go. Some carriers allow their customers to temporarily switch to an international plan, which will be much cheaper than a domestic plan that charges roaming when the phone is taken out of that country.
AS FEATURED ON:
AS FEATURED ON:






By: chere

SIM cards for tri-band phones.

By: schankz

A triband world phone.

By: Syda Productions

Triband phones should be sufficient for people who use them locally or regionally.