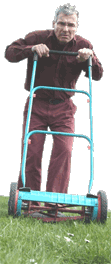 A torch lily or Kniphofia uvaria is a plant native to tropical South Africa. Despite being a tropical native, this plant is quite hardy and can be grown in a variety of climates. It has been exported as an ornamental plant to gardens all over the world and is readily available at many nurseries. People can also cultivate torch lilies from seeds or divisions provided by fellow gardeners. Gardening forums provide opportunities for people to trade plants for propagation and can be a good resource for finding unusual torch lily cultivars.
The torch lily has long, fleshy leaves and upright stems topped with bright red to orange flower clusters that can also be yellow, white, or pink. The flowers themselves take the form of very small tubes clustered together to create a large and very distinctive flame-like arrangement. Torch lilies are eye catching and can grow up to three feet (approximately one meter) across in addition to flowering throughout the spring and summer if they are encouraged by deadheading the flowers.
Also known as the red hot poker, the torch lily prefers to grow in full sun. It can be cultivated successfully in USDA zones five through 10. Moist, well drained soil is recommended and in cool climates, it can be advisable to mulch during the winter to protect the roots. Torch lilies tend to die back in the fall and winter. The foliage can be clipped away as it dies back. The crown of the plant can sometimes be subject to mold and rot in moist climates and clearing dead foliage away will help to prevent this problem.
This hardy plant can be used as a standalone garden feature or part of a massed planting. Torch lilies can tend to sprawl and it is important to provide them with enough room. Planting them against an evergreen to create a dark backdrop is recommended to help the distinctive flowers stand out. Many plants are suitable for companion planting with torch lilies, ranging from succulents to complement the fleshy leaves and stems to vines to create a tropical feel in the garden.
These plants can be grown from seed indoors at any time of the year, and in some regions are kept as house plants. Torch lily seedlings should be transplanted outdoors in the spring. Division can be done in spring or fall to break up large plants and create new starts. Gardeners should be advised that the plants will flower less for around two years after division while they recover.
Man mowing the grass