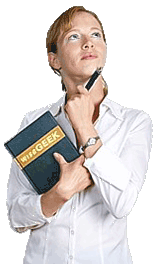 A tinsel wig is a full-head hairpiece made from thousands of strands of tinsel. Often worn as part of a costume, at parties, and a variety of other celebrations, a tinsel wig is an inexpensive way to really stand out. The wigs are available in nearly any color and style imaginable and are a quick and easy way to add a whole lot of sparkle to any outfit.
Tinsel, traditionally used as a decorative material, was originally produced form thin strands of metal. Wigs made from tinsel consist of long strips of nontoxic polyvinyl chloride plastic that have been painted in a range of shiny, metallic colors. Metal foil is also sometimes used. The cheap cost of producing these materials makes the wigs a very inexpensive option.
A tinsel wig can be purchased in a variety of colors, from gold and silver to purples, greens, and reds, and every color in between, including "natural" hair colors. Wigs come in single colors or two or more, either in blocks or intermixed. They also come a variety of lengths, from short to long, and can be cut if needed to suit a particular style.
This type of wig is also available in a variety of precut styles. They can be bought with bangs or without and as all one length or layered. There are even types of tinsel wigs available that have been precrimped or curled. The wigs themselves cannot be heat styled once they have been purchased because this would cause the plastic to melt. They are also not versatile in terms of styling as they do not have the volume that real hair has.
The quality of tinsel wigs differ among brands. They all look obviously fake, but wigs with a greater number of thinner stands tend to look much sleeker and of better quality than those with thicker ribbons. The wigs are available from a number of sources, including costume shops, party supply stores, and different online retailers. More-expensive brands tend to be of better quality. The wigs are generally sturdy, with the most damage occurring in terms of the wig shedding rather than the strands breaking.
Even though the wigs are nontoxic, some people find that they can be itchy and irritating. They are intended as a temporary costume choice — not something to be worn every day — and, as a result, are not built for comfort and long-term wear. It may be a good choice, when wearing a tinsel wig, to wear it with a wig cap underneath. Not only does this control the natural hair and make the wig fit better, but it can also make it more comfortable by reducing itching.


Woman holding a book