What is a Thallium Stress Test?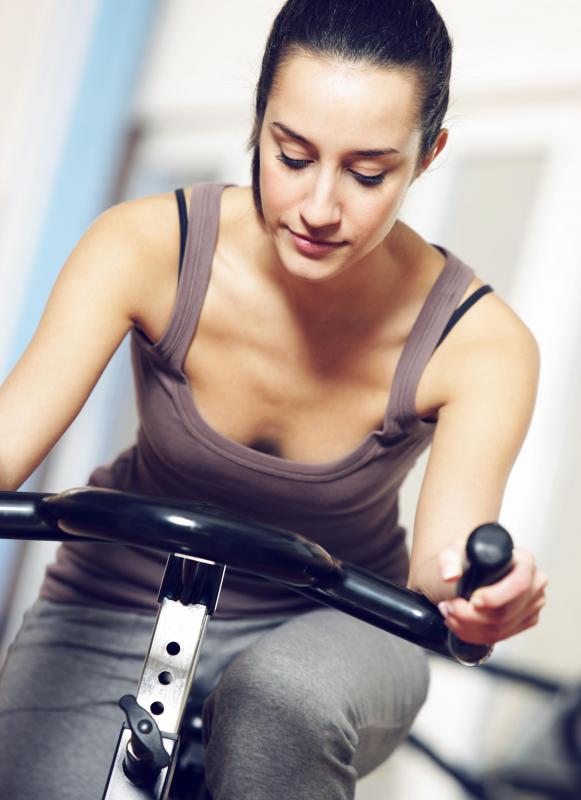 A thallium stress test is a diagnostic test that is used to check on the circulation through the heart, most commonly in patients suspected of having coronary artery disease. This test is used to gather information about the function of the patient's heart and circulatory system both under stress and while at rest. This information will be used to develop a treatment plan for the patient and can also be used to monitor the progress of a recommended treatment.
The thallium stress test starts with a procedure to put the heart under stress. There are two ways to do this. One involves asking the patient to exercise on a treadmill or stationary bike to force the heart to work harder. Another option involves giving the patient medication to stress the heart. This option may be preferred if exercising would be dangerous for the patient. Then, a radioactive tracer known as thallium is introduced through an intravenous line. The patient is taken to a medical imaging suite and a series of pictures of the chest are taken.
In healthy patients, the thallium will move reliably and evenly throughout the heart. In patients with blockages or dead and diseased areas of the heart, the thallium will be uneven. Some areas of the heart will absorb more than others. The resulting images will show dark spots indicative of blockages and other problems. The patient is then asked to rest for several hours and a repeat series of images is taken to see what the heart looks like at rest.
Healthy patients will show similar distributions of thallium at rest and when the heart is under stress. Patients who are unhealthy may have dark spots on the images taken of the resting heart, indicating that the cardiac circulation is blocked even when the heart is not working hard, and some patients will have difficulties with coronary circulation when their hearts are stressed, but will have normal results at rest. The images from the thallium stress test can be used to determine the location of a blockage and to start developing a treatment plan for addressing a blockage.
A thallium stress test will take several hours, because the patient needs to rest between the tests. Patients may be encouraged to take a day off for a thallium stress test because they will need four to five hours for the testing. The test can be associated with discomfort, shortness of breath, and nausea. When the test is over, the body will naturally eliminate the thallium and the patient should not experience lingering side effects. If a patient notices chest pain or has extreme difficulty breathing during or after a thallium stress test, a doctor should be notified immediately.
During a stress test, patients are given a minute dose of thallium while exercising on a stationary bike or treadmill.