Sometimes referred to as a skid steer loader, the basic skid loader is an engine driven machine that is equipped with lift arms that support a number of different types of attachments designed for a number of different construction and industrial applications. Developed in the late 1950s, skid-steer loaders are sometimes referred to as bobcats.
There are two physical characteristics that make skid loaders unique among loading equipment. First, the vehicle has the ability to turn around in a space that is no larger than the length of the loader. The combination of being a compact track loader and being able to make a full turn in such a small amount of space makes the skid loader ideal for use in tight spaces. Second, the skid loader is equipped with lift arms that are located on the sides of the vehicle, rather than incorporating a lifting mechanism on the front of the unit. The pivot points of the loading mechanism are located to the sides and just behind the driver's seat, which goes a long way to distribute the weight of the load evenly. While many early models of the skid loader featured an open cab for the driver, today's compact track loaders usually include an enclosed cab, adding an element of safety.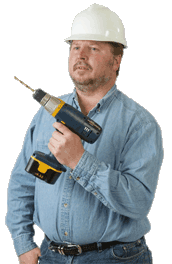 Generally, the standard equipment on a skid loader is a bucket that can be used for scooping surface elements, as well as for excavation. However, it is possible to replace the bucket with a number of different attachments. Among the attachments that can be worked with the design of the skid loader are sweepers, augers, mowers, snow blowers, and trenchers. It is even possible to include a woodchopper or a cement mixer as an attachment.
The versatility of the skid loader makes the device makes it valuable in a number of settings. Farmers can benefit from use of the skid loader as an easy means of cleaning up around the property as well as moving lumber and other heavy objects from one location to another. Around a construction site, the skid loader is ideal for loading and unloading materials, transporting sand or bricks from one section of the site to another, and removing debris from the site.
AS FEATURED ON:
AS FEATURED ON:






Man with a drill