What is a Shin Stress Fracture?
An injury commonly incurred by runners and other athletes, a shin stress fracture occurs when the load that is supposed to be absorbed by muscles of the lower leg gets transferred to the bone, causing a small crack in that bone. The load gets transferred to the bone because the muscles have become overtired and therefore weaker than normal, so a shin stress fracture is likely to occur after overuse of the muscles. The injury is sometimes mistaken for shin splints. A shin stress fracture can be quite painful; it often takes several weeks or even months to heal completely, during which time adequate rest is essential.
Some runners may mistake a shin stress fracture for the less serious shin splints because the pain can feel somewhat similar. Shin splints occur when muscles or tendons within the lower leg become inflamed from overuse, causing pain when weight is placed on the legs. A shin stress fracture will also become painful when weight is placed on the leg, but shin splints are likely to heal after a relatively short period of time, while stress fractures can linger or even worsen. The pain from a shin stress fracture will eventually become more significant than the pain of shin splints.
Most cases of a shin stress fracture will heal without any surgery or special treatment beyond rest and pain management, but in more serious instances in which the fracture worsens, a surgery may be necessary to correct the problem. The person who has incurred the fracture will need to stay off the leg almost entirely for several weeks or even months until the injury heals. The muscles of the leg must also be allowed to recover in order to properly support the weight of the body instead of transferring the weight to the bone. Once the injury heals, the runner will need to change his or her training program to avoid fractures in the future; a runner may even consider doing a gait analysis to make sure his or her running stride is not the cause of the injuries to begin with.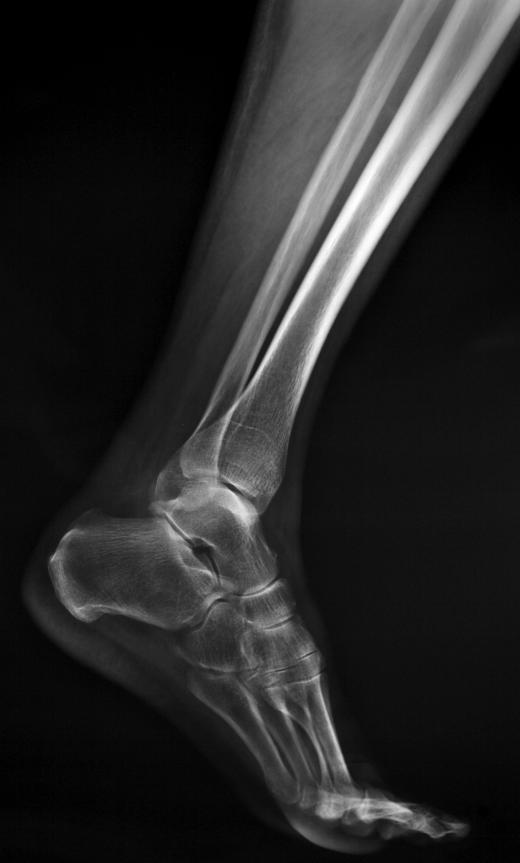 Athletes are not the only people at risk for shin stress fractures. The injury can occur as a result of a sudden impact, such as a collision or even jumping from a high place. Walking more than usual can also lead to a shin stress fracture, especially if a person's normal routine is fairly sedentary.
AS FEATURED ON:
AS FEATURED ON:






By: Shariff Che'Lah

Athletes are at high risk for developing shin stress fractures.

By: andreaxt

X-rays typically won't show stress fractures.

By: Africa Studio

Shin stress fractures affect the bones of the lower leg.