What is a Registered Nurse Anesthetist?
A registered nurse anesthetist is a medical professional who administers anesthesia to patients before, during, and after surgical procedures. He or she carefully calculates and monitors anesthesia levels to ensure the comfort and safety of patients at all times. Nurse anesthetists also perform general nursing duties, such as checking vital signs, assisting doctors with medical procedures, and providing education and information to patients and their families. To become a registered nurse anesthetist, a person must typically obtain an advanced nurse practitioner degree and become certified by passing a written exam administered by a nationally accredited organization.
Most nurse anesthetists work in general hospitals, public health clinics, specialty surgical centers, and doctors' offices. They often interview and examine patients, finding out information about their health, allergies, and family histories to determine what type of anesthesia to administer. A nurse anesthetist usually explains the process before giving a patient anesthesia, and ensures that proper doses are supplied before and after a procedure. He or she usually attends surgeries to monitor the patient's status and vital signs, providing additional anesthesia if the person begins to wake up or appears to be in pain.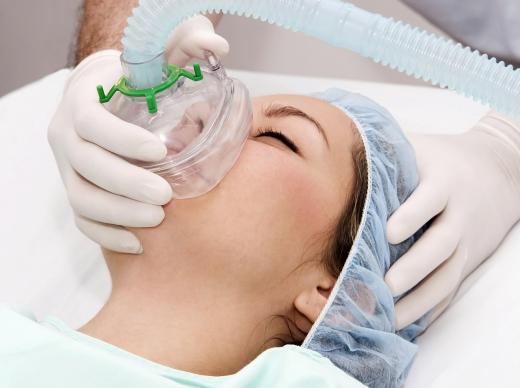 Many professionals specialize in obstetrics, where they provide a range of services to pregnant women. A registered nurse anesthetist might attend a childbirth and administer small levels of anesthesia to the mother to ease labor pains. He or she must take extra precautions to ensure the safety of the infant as well as the mother, such as constantly monitoring vital signs and making sure medical equipment is working properly. The anesthetist frequently assists physicians or midwives in providing basic care after the baby is born.
An individual who wants to become a registered nurse anesthetist must first obtain a bachelor's degree in nursing or complete a training program at a hospital. He or she can then take a test, such as the National Council Licensure Examination-Registered Nurse in the United States, to become a registered nurse. Once registered, a hopeful anesthetist usually enrolls in an advanced nurse practitioner school to get specialized training. Nurse practitioner school usually takes two to three years to complete, and culminates with an internship or paid position in a hospital or emergency room setting.
After working under supervision for at least one year, a new professional becomes eligible to take a certification exam that allows him or her to work independently as a registered nurse anesthetist. In the United States, the Council on Certification of Nurse Anesthetists (CCNA) offers nationally-recognized credentials to new nurses. Most other countries feature governing boards similar to the CCNA that provide certification for nurse anesthetists.
AS FEATURED ON:
AS FEATURED ON:






By: reflektastudios

A nurse anesthetist administering inhalation anesthesia before surgery.

By: SeanPavonePhoto

Most new nurses begin their careers in a hospital or an emergency room.

By: Monkey Business

Most aspiring nurse anesthetists work as a registered nurse for several years before pursuing a graduate degree.