What is a Radiation Therapist?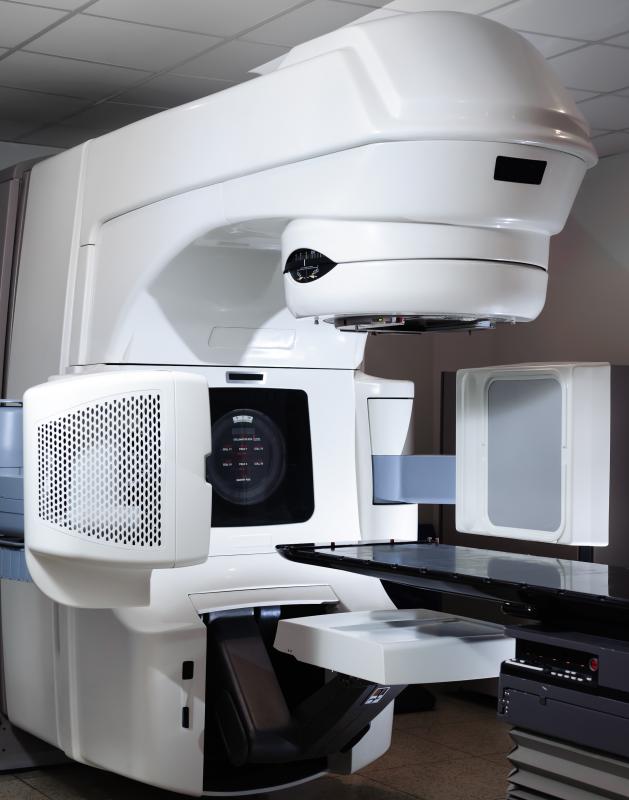 A radiation therapist is a medical practitioner who is trained to use radiation (high-energy rays) to treat diseases. Often, this occupation is confused with that of a radiologist, but the two are not the same. A radiologist works on a diagnostic level while a radiation therapist actually handles treatment.
A radiation therapist works as part of an oncology team, using a type of machine called a linear accelerator to provide treatment. These machines point high-energy rays at cancer cells. The rays hit the affected tissue and produce ions, which work on shrinking and even destroying tumors. A radiation therapist pinpoints the tumor, sets up the machine, positions the patient, and operates the machine from another room, where he or she is safe from the radiation. Part of the job is monitoring the patient during treatment, using a TV monitor and an intercom.
Besides operating the machine and monitoring the patient, a radiation therapist is also responsible for keeping patient treatment records. These records must contain such things as radiation doses, total radiation used over the course of treatment, the part of the body to which the treatment was applied, and how the patient reacted to treatment.
Other members of the oncology team use these records to make sure treatment is working as expected, ensure that radiation exposure is kept to a safe level, and minimize any side effects the patient may experience. Radiation therapists also work with radiation physicists, who are charged with making sure the linear accelerator is in good working order and adjusting it when necessary. Since radiation therapists frequently provide treatment without ready assistance, they need to know how to spot and fix any issues that may come up.
A radiation therapist is typically found working in a hospital setting or in a cancer-treatment facility. A person with this job will spend a lot of his time on his feet, and he must be capable of lifting a significant amount of weight, as he will be required to help disabled patients get into position for treatment and get off the table once treatment is over. Most radiation therapists work about 40 hours per week, during normal business hours. However, there are emergencies that may occur, requiring some in this position to be on call and available outside of business hours.
To get a job as a radiation therapist, an associate's or bachelor's degree is usually required. Depending on the state, radiation therapy certification may be an acceptable alternative to a degree or it may be required in addition to a degree. Some states also require licensing for those in this occupation, which may require the applicant to pass an exam. Certification is often provided by the American Registry of Radiologic Technologists (ARRT).
By: Alex Tihonov

A radiation therapist might use a linear accelerator to target cancer cells.