What is a Quad Band Watch?
A quad band watch is a style of cell phone that resembles a watch but functions as a cell phone. It can be worn around the wrist. These cell phones operate on all frequency bands and can be used around the world.
These watches work on all four cell phone frequency bands: 850 megahertz (MHz), 900 MHz, 1800 MHz and 1900 MHz. The 850 MHz and 1900 MHz frequency bands are associated with the Americas, and the 900 MHz and 1800 MHz frequency bands are used in Europe, Africa and Asia. Any device that can use all frequency bands, such as a quad band watch, can work anywhere in the world. This means that calls can be placed using the device wherever the owner is, as long as there is cell phone reception in the area.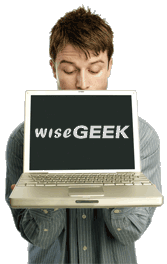 Features of a quad band watch can vary between models. However, quad band watches are likely to have many of the same features that consumers would expect to find on the average phone. These watches can come equipped with cameras, music players, alarm clocks, games, data transfer capabilities, radios, voice recorders, stopwatches, calendars, text messaging and emailing functions, contact directories and more. Liquid crystal display (LCD) screens are used to display information, and owners can even set ring tones just as they would on a regular phone. Keypads can be located on a wrist strap for easy access, and memory cards can be inserted into the watch for extra storage space.
Some quad band watches have more sophisticated features than cell phones. Particular watches can support handwriting input and eBook reader software, and they can have touch-screen capabilities. In many ways, these watches can function as high-end models of cell phones do.
A quad band watch can be worn on the wrist, so it allows users to have hands-free access. Additional wireless capabilities such as Bluetooth® make operation of the device and connections with other devices simple. A quad band watch can be the ultimate convenient accessory for those who live a busy lifestyle.
Another device besides the quad band watch that can work on four frequencies is a quad band TV phone. Like the name suggests, a quad band TV phone is a phone that can operate on the 850 MHz, 900 MHz, 1800 MHz and 1900 MHz band frequencies. It also can provide the cell phone owner with TV functionality so that the owner can enjoy his or her favorite shows on the same device that is used to place and receive phone calls.
AS FEATURED ON:
AS FEATURED ON:






Man holding computer