What is a Personal Injury Expert Witness?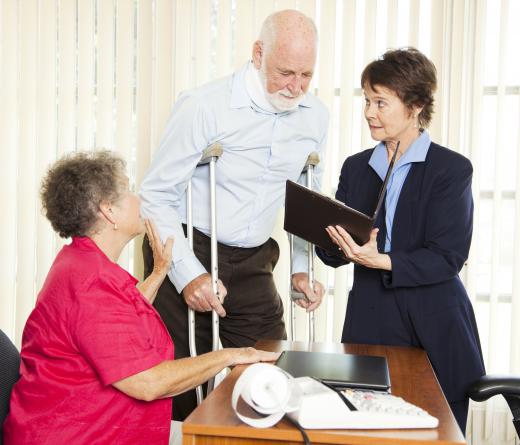 A personal injury expert witness is a person qualified in the eye's of the law to give expert testimony in a personal injury trial. There may be many different types of personal injury witnesses depending on the situation. In every case, an expert witnesses must have some qualifications within the relevant field in order to be deemed an expert.
When a person is injured, he or she may bring legal action against the person who injured them, if the injuring party violated a legal duty. There are many different types of personal injury cases. For example, if a car accident victim sues the driver of the other car, this is considered a personal injury lawsuit. If a person slips and falls on someone else's property and sues, this too is a personal injury lawsuit.
Many witnesses are called by both the plaintiff and the defendant in order to prove a case. These witnesses may be people who saw the accident. If a witness who saw the accident is called, that witness is not a personal injury expert witness since he has no qualifications other than the fact that he observed the event.
Both the plaintiff and defendant, however, often need to call expert witnesses to prove some credible interpretation of their side of the case. Expert witnesses are those witnesses who are qualified to give testimony on the basis of their skill, education, or experience within a field. For example, a physician is a common expert witness in a personal injury case.
The expert witness gives testimony on the issue that he is an expert on. A doctor will thus provide expert testimony on the level and extent of the plaintiff's injuries. A forensic expert, a psychiatrist, and an automotive engineer are each considered a personal injury expert witness as well.
When a plaintiff or defendant calls a personal injury expert witness, that witness must demonstrate his credentials to the court. He can provide information about his background and experience within the field. Generally, the court must certify that he is an expert, and the plaintiff or defense attorney also presents his qualifications to the jury, so that the jury understands why the witness is qualified to speak.
The personal injury expert witness thus provides substantiating information to prove certain aspects of the plaintiff's or defendant's case. The expert witness cannot testify in regards to what actually occurred unless he saw what happened. He simply testifies to what he believes, based upon his expert knowledge.


By: Lisa F. Young

Individuals may consult with a personal injury lawyer after a car accident.

By: Stephen Coburn

A personal injury witness can be employed by a plaintiff or defendant to testify in court.

By: TAGSTOCK2

The expert witness gives testimony on the issue that he or she is an expert on.