What is a Personal Injury Award?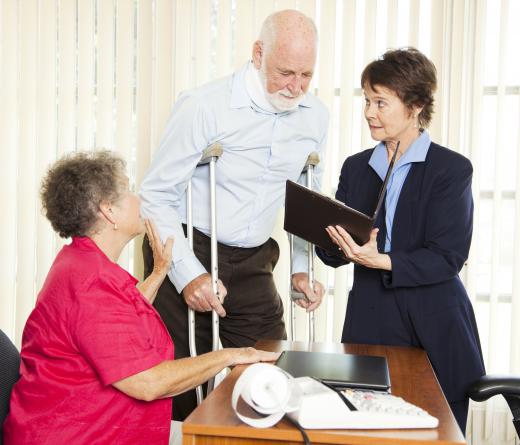 A personal injury award is a monetary amount awarded to someone who has successfully sued for damages in civil court. The amount of the award is determined by the facts of the case and it can be established by a jury or a judge, depending on how the case is handled in court. Personal injury awards are designed to compensate people for the damages they have incurred as a result of actions on the part of the defendant, the person who is ordered to pay the award.
When people sue for damages, they argue that they have experienced harm as a result of a person's actions, and that person should provide compensation for expenses directly related to the harm. In addition, the personal injury award can include compensation for missed work, along with monies provided to compensate people for emotional pain and suffering linked with the case. In order for the court to award damages, the plaintiff in the suit must be able to demonstrate that damages occurred and show how the defendant caused them. In addition, documentation of the expenses related to the case should also be provided.
Personal injury awards can come up in civil suits over a wide variety of matters ranging from car accidents to botched surgeries. In some regions, limits are set on the overall amount that can be awarded in such cases, with the goal of preventing outrageous or unreasonable awards. The court system views personal injury awards as compensation for individuals in civil suits in addition to object lessons for society. Surgeons noting high awards in cases where negligence during surgery causes harm, for example, would naturally be more careful in their own medical practices.
When determining on an amount to award, the expenses associated with the case are considered along with the facts. A personal injury award tends to be higher in more graphic and gory cases, as well as in cases where clear emotional pain and suffering can be noted. Situations resulting in permanent disability or disfigurement tend to command high sums as judges and juries may feel pity for the plaintiff, and sometimes cases of professional negligence can evoke a high personal injury award if people want to send a message to the rest of the profession.
People can choose to take a personal injury award in a lump sum, or to distribute it into multiple payments. Individuals who receive awards of this nature may want to discuss them with an accountant or financial planner to talk about options and discuss their implications.


By: Lisa F. Young

People consulting with a personal injury lawyer after a car accident.

By: Monkey Business

Personal injury awards can stem from car accidents.

By: Anna

A lawsuit may allege that a negligent driver is liable for the injuries of another.

By: uwimages

Personal injury awards are amounts awarded to a plaintiff who has won a civil case, with the exact figure decided by a judge or jury.