A portable document format (PDF) editor is software that enables a user to make changes to PDF files. A PDF is a specific format of document made up of text, images, or both which is captured into a computer file. These files are more like images than text documents, even if they do contain text, and it is not possible to edit them without special software.
PDF files were first created in 1993 by Adobe Systems. Its purpose was to make and view documents of all types of data independent of the operating system. The format was useful for capturing data, but users quickly found that the lack of editing capabilities severely inhibited the practical applications of the format. After many years of development, the PDF editor was created.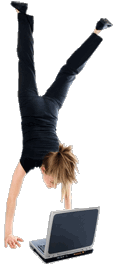 Although all PDFs have the same digital format, different PDF editors are available for specific functions and types of data. For instance, some editing software is made for images, which have different editing requirements than text. The editor must be able to change lines, colors, and shapes to properly edit images. Text documents also have specific needs. Text does not necessarily have equally distributed letters, and a PDF editor must be able to reflow — rewrap or align — the text as changes take place.
Additional types of PDF editors are available for graphs, charts and reorganization. A graph and chart PDF editor works like spreadsheet software allowing new data to be added and reflecting those changes in the graph. Reorganization editors are used to combine multiple PDFs into one file, rotate, swap or delete pages, and adjust page numbers.
Some types of software simply reformat the PDF to a file which can be edited with different software. The PDF can be changed to a word processing document, an image document or a spreadsheet document. Once the file is converted, it can be edited with the user's existing software instead of a PDF editor.
Many open source PDF viewers are available free of charge for a wide range of computer operating systems. PDF editors are typically licensed and purchased for a fee, but some open source PDF editors are available, although they are normally limited in their functions. Sophisticated PDF editors which cover all data types, from images and graphs, to text and reorganization, are usually expensive and are typically purchased for commercial use.
AS FEATURED ON:
AS FEATURED ON:






Woman doing a handstand with a computer