What is a Nursing Refresher Course?
A nursing refresher course is typically a short course or seminar focusing on specialized skills, new techniques, or technology. In some states, nurses are required to complete a specific number of hours of training each year to maintain their license to work as a nurse. In other areas, there is a general requirement for a specific number of general education credits that must be earned each year, but no specific requirements tied to licensing. Nurses work in a variety of settings, providing a range of medical assistance.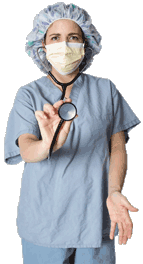 In order to become a nurse, candidates must complete a minimum two-year post-secondary education training program. There is a combination of academic and practical work experience requirements that must be completed to qualify for the written licensing examination. Successful completion of the exam is required to work as a licensed nurse.
The focus of the nursing refresher course varies quite widely and can range from a basic refresher of core techniques to specialized seminars. For example, a nursing refresher course that focuses on triage and needs assessments may focus on the latest technique to evaluate different ailments. Other courses may provide training on the latest stroke assessment protocols and the new procedures to minimize brain damage in stroke victims.
Read the course description carefully, and make sure that it provides the appropriate level of detail for your needs. If you are taking a nursing refresher course to maintain your certification, make sure the course is appropriate and will be accepted by the licensing board. Take the time to receive written confirmation before making a course selection.
Every nursing refresher course will review information covered in the original training, as well as new information or processes. This method of instruction ensures that all students are working from the same starting point and provides context for the new information. The level of detail in a nursing refresher course varies, depending on the audience, subject matter, and level of complexity. For example, nursing staff need to be aware of new procedures for identifying a heart attack in a woman, as the protocol includes symptoms that are not included for men.
Nursing refresher courses that will be used for continuing education credit as part of the licensing program will typically include a written test or other method of evaluation. It provides the opportunity to validate the consistency of the skills covered and works as a quality assurance tool for the nursing agency. It is important to ensure that the training is suitable, accurate, and relevant.
The best refresher course is one that provides training on techniques or equipment that can be immediately applied to patients. Another benefit of this type of course is the opportunity to share information, tips, and network with colleagues. Nursing is a community-based profession, and making professional contacts with other nurses is a great way to learn about trends, processes, and different ways to improve patient health.