What is a Licensed Veterinary Technician?
A licensed veterinary technician most commonly provides animal care and support duties for a veterinarian. This veterinarian could be in private practice or part of an animal health organization. Other career opportunities for the licensed veterinary technician may be available in biomedical research, animal health research, or in the animal health industry. Zoos and animal parks also hire veterinary technicians to assist with animal care.
There is a wide range of duties that the licensed veterinary technician would perform for the veterinarian in private practice. The veterinary technician is trained to interact with the owner of the animal to get a complete history of the patient. This means that in addition to working with animals, the veterinary technician must have skills at dealing with the public.
Animal care duties may vary with the position but can include collecting blood, giving vaccinations, and assisting with dental procedures. The licensed veterinary technician may also be asked to assist during surgery, collect urine, and perform laboratory tests. Taking X-rays or administering anesthetic during surgery may also be done by the veterinary technician. The veterinary technician would not be able to perform surgery or prescribe medication.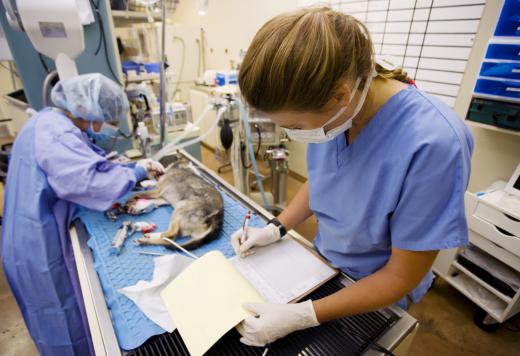 The person who is interested in becoming a licensed veterinary technician needs to be comfortable handling and working with animals of all sizes. This usually means that the technician must be able to stay calm and to comfort animals in distress. Animals must be treated gently and humanely without creating stress or pain.
Candidates for the licensed veterinary technician position should also have a strong aptitude for math, science, and medicine. Training for a licensed veterinary technician would begin with a high school diploma. Following high school, completion of a two-year veterinary technician program at a community college would result in an associate's degree. Veterinary technicians differ from veterinary technologists in that technologists complete a four-year training program and receive a bachelor's degree.
Upon completion of the two-year program, the veterinary technician would usually need to take an examination to evaluate his or her skills and knowledge. This examination would then be submitted to the state agency responsible for licensing. If approved, the veterinary technician would then be issued a license to assist a veterinarian in caring for animals.
Assisting in the care of injured or diseased animals as a licensed veterinary technician can be very rewarding. It can also be interesting and mentally stimulating to work in a clinical setting and assist in conducting diagnostic tests for the veterinarian. The veterinary technician must also understand and be able to deal with the emotional stress that comes when an animal cannot be treated.
AS FEATURED ON:
AS FEATURED ON:






By: Trish23

Zoos and research institutions may employ veterinary technicians.

By: Scott Griessel

Veterinary technicians may assist in surgeries.