What is a Laparoscopic Nephrectomy?
A laparoscopic nephrectomy is a minimally invasive type of surgery used to remove a diseased or cancerous kidney. This type of surgery requires less time in the hospital and a shorter recovery period than the more traditional open surgery. A laparoscopic nephrectomy involves two or three small surgical holes in the abdomen as well as a small incision through which the kidney will be removed. The typical hospital stay for this procedure is about two days, and a full recovery should only take between three and four weeks.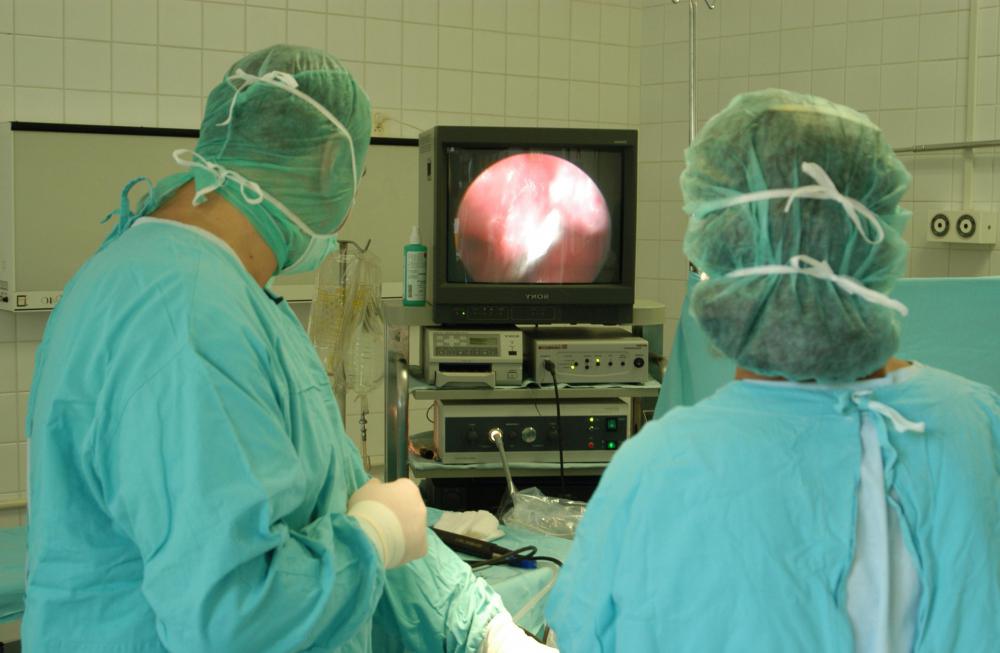 The laparoscopic nephrectomy is performed under general anesthesia. This means that the patient is completely sedated and is not awake for any portion of the surgery. Once the patient has been sedated, two or three small puncture holes are surgically placed through the abdominal wall. A small incision, usually around 2 inches (about 5 cm) long, is then made through the abdominal wall.
A small camera and other instruments are placed into the small holes so that the surgeon can complete the surgical procedure without needing to place his hands into the body, significantly reducing the patient's risks of developing an infection as a result of the surgery. The diseased kidney is then removed through the incision. The incision and the surgical holes are then closed. The patient is then monitored closely for about an hour in the recovery room before being moved into another room in the hospital.
Once the laparoscopic nephrectomy has been completed, the patient will usually spend a couple of days in the hospital so that the medical team can watch for potential signs of complications such as bleeding or infection. A tube known as a catheter will typically be inserted into the bladder during surgery and will stay there for 24 hours following the procedure. Pain and nausea medications will be given as needed following the laparoscopic nephrectomy.
Once the patient is released from the hospital following a laparoscopic nephrectomy, it is important to follow all of the instructions given by the medical team at the hospital. Pain medications may be needed for several weeks following surgery. The doctor may suggest dietary changes because foods high in sodium or protein may not be healthy for the remaining kidney. Blood and urine tests will likely be performed every few months to make sure that the remaining kidney is functioning normally. It is important to keep all doctor appointments and discuss any concerns with a doctor following a laparoscopic nephrectomy