What is a Japanese Holly?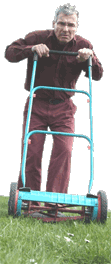 Japanese holly, also known by its scientific name, Ilex crenata, is an evergreen shrub or tree. It is part of the genus Ilex ,or holly, and the family Aquifoliaceae. Native to Japan, Korea, and Russia, it is a slow grower, yet it can be invasive and aggressive toward other plants. It is most often planted as a hedge, in garden beds, or along borders. There are more than a dozen different varieties within this species of holly.
The leaves of the Japanese holly are usually elliptical or oval in shape and quite glossy. They are typically dark green with scalloped edges. The leaves are most often small in size, ranging in length from 0.75 inches to 1.25 inches (about 1.9 cm to 3.2 cm). In general, it produces black fruit, although some varieties produce yellow or white fruit. In addition, the Japanese holly is capable of growing 15 feet (about 4.6 m) high and 12 feet (about 3.7 m) wide, yet there are some varieties that will only reach heights and widths of about 2 to 3 feet (0.61 to 0.91 m).
Although they almost go unnoticed by most people, the Japanese holly does have tiny flowers. They are typically cream or yellow in color and are comprised of four small petals. They attract bees, which benefits pollination of the tree. While the flowers attract the bees, the berries, inedible for humans, may be eaten by birds. In addition, deer seldom consume the Japanese holly, making it a good plant for gardeners in deer-prone areas.
Generally, the Japanese holly prefers to be planted in partial shade to full sun. If the soil is moist and drains well, this evergreen should thrive. In addition, it only requires moderate watering and minimal maintenance. It is susceptible to various pests and diseases, such as black root rot, spider mites, foliar burn, and blight. New growth can be pruned when the stem becomes hard, helping it form a dense hedge.
Many garden stores or nurseries sell Japanese holly, particularly since it can withstand cold temperatures. It can also be purchased through Internet gardening stores. Many people prefer to cultivate it from seed, although germination may take several years. It is also possible to cultivate it from semi-ripe cuttings. It typically should be planted in an area where it can live for a long time, as this holly species has been known to last for more than 80 years.
Man mowing the grass