What is a Human Chorionic Gonadotropin Diet?
A human chorionic gonadotropin (HCG) diet is one which uses this hormone in order to boost weight loss. HCG is a hormone naturally produced by the placenta in a pregnant woman throughout her pregnancy, and it stimulates the hypothalamus to regulate the metabolic rate of women during pregnancy. The human chorionic gonadotropin diet generally combines daily injections of oral supplements of HCG combined with a very low-calorie diet.
When losing weight on the human chorionic gonadotropin diet, one may expect to lose a very large amount of weight within a short amount of time. Some dieters report weight loss of up to three pounds (1.3 kg) per day, although one to two pounds (0.9 to 0.45 kg) is more average. This is due to the stimulation of the hypothalamus to begin burning fat stores for additional energy, similarly to how the body reacts during pregnancy.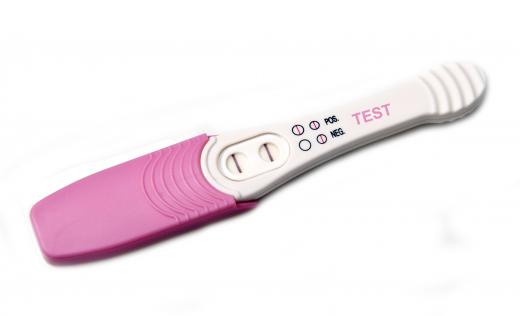 The human chorionic gonadotropin diet uses the same type of derived hormones found in fertility treatments, but in much smaller amounts. It can be given through a needle injection or sometimes in oral tablet or capsule form. Those who use this form of diet are advised to do so under a doctor's direct supervision. Although it is usually legal to order HCG online for personal use, this is not recommend because items coming from overseas may not be tested for quality and purity.
As of 2011, the Food and Drug Administration in the United States does not advocate the use of the human chorionic gonadotropin diet, especially for those who do not need to lose weight for health reasons. It is still legal to do so in most areas, however, so dieters should research their options very carefully before choosing a diet plan.
Many individuals who use the HCG diet follow a protocol developed by Dr. A. T. Simeons. This plan severely restricts calorie intake to about 500 calories per day. Breakfast should consist of nothing but coffee or tea with no sugar or flavorings. Lunch and dinner consist of lean protein, one vegetable from a highly restrictive list, one bread stick or piece of Melba toast, and one of a short list of fruits. This diet is designed to provide as many nutrients as possible for so few calories, but whether or not it is safe to use long-term has been called into question.
In order for the HCG diet to provide the results most dieters want, they will need to develop new eating habits as well as an exercise routine. If one goes back to his or her normal eating patterns once HCG injections are complete, the weight will come back rapidly. The healthiest and most long-term way to lose weight and get healthy is to eat sensibly and exercise daily.
AS FEATURED ON:
AS FEATURED ON:






By: Lsantilli

HCG is usually produced by woman during pregnancy, and it is the hormone measured by home pregnancy tests.

By: Athanasia Nomikou

HCG stimulates the hypothalamus to regulate the metabolic rate of women during pregnancy.