What is a Horse Riding Instructor?
A horse riding instructor, commonly referred to as an equestrian trainer, teaches people how to ride and care for horses and ponies. She may work alone or in conjunction with a horse trainer. The training is typically provided at a horse farm or ranch, but may take place anywhere there is a large open area enclosed by a fence that is appropriate for riding instruction.
The instruction offered normally includes group or private lessons. Based on the ages and experience of the riders, classes are typically divided into beginning, intermediate and advanced levels. Training sessions are normally held on a weekly or semi-weekly basis. At camps devoted to riding instruction, students typically train on a daily basis, often in two or three separate sessions presided over by a horse riding instructor.
The initial lessons a horse riding instructor gives typically include riding basics, such as mounting and dismounting and how to hold the reins. As the lessons continue, the best ways to pet and communicate with the horse are taught, along with how to best react to spills and falls with minimal injury. Feeding, exercising and the basic care of a horse are also normally part of the instruction.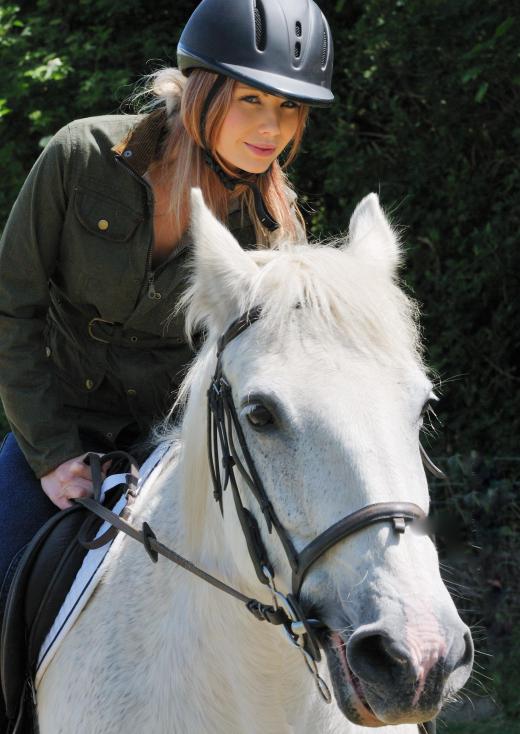 The two basic styles of horseback riding are Western and English. A horse riding instructor may specialize in one or the other or offer training in both styles. If instruction in both styles is offered, the classes are traditionally held separately to concentrate on the specifics of each style.
Western horseback riding normally utilizes a Western style saddle that is curved on the front and back, equipped with a large saddle horn and has heavy leather panels on each side with stirrups attached. The bridle used for Western style riding is typically equipped with a curb bit constructed of a solid bar with a curve in its middle. Younger horses or those with particularly tender mouths may require a snaffle bit, which is flexible and less harsh on the horse's mouth. The bridle has two reins attached to it to guide the horse.
English style horseback riding tack is quite different from the Western variety. The saddle has no back or front curvature and lacks a saddle horn. The straps that attach the stirrups to the saddle are thin pieces of leather that resemble a man's belt. An English bridle has four reins instead of two, as well as both a snaffle and curb bit.
To be proficient as a horse riding instructor requires a love of the animals and the desire and patience to teach students the joys of the sport. A good instructor is generally expected to be a skilled rider and well-versed in the care of horses. She is also normally required to have knowledge of stable and barn maintenance as well.
No formal education is required for this position. Many instructors learn their trade from a mentor, often the person who taught them their horseback riding skills. Large horse farms frequently offer seminars and training sessions on innovative instruction techniques.
AS FEATURED ON:
AS FEATURED ON:






By: alexnika

A horse riding instructor teaches people how to ride horses.

By: pauws99

Equestrian teachers show students how to ride and care for horses.

By: Michael Bravo

Attached to the horse's head, the bridle and bit are used to help control the animal.

By: Alexia Khruscheva

A good instructor is generally expected to be a skilled rider and well-versed in the care of horses.

By: orangephoto

New students of horseback riding often first learn how to get on and off the animals and handle the reins.