What is a Healing Ministry?
A healing ministry is a spiritually based practice of effecting physical, mental, or emotional healing in another. An individual with a healing ministry may offer his services in the context of a particular set of religious beliefs or a religious organization. Other healing ministries are far more general in scope and may include the use of various types of alternative medicine or bodywork that has a spiritual component or underlying philosophy. In some cases, alternative healers have found it easier to practice their modality under the guise of a healing ministry rather than make the attempt to legitimize their work by obtaining some type of legally recognized health care licensure or certification. Some religions and denominations regularly practice various types of spiritual healing, and those with a healing ministry are an integral part of those organizations.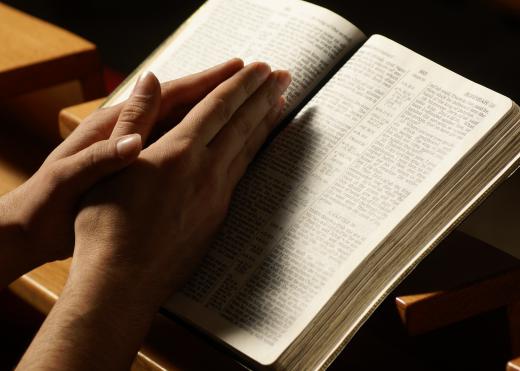 For many people, the notion of a healing ministry is often identified with Christian Pentecostalism and both tent and television preachers who frequently pray for the miraculous healing of those in their audience. Many Pentecostal denominations place a significant emphasis on healing through prayer and laying on of hands by a minister. Many non-Pentecostal Christian denominations also practice Christian healing through various rituals and rites, including that of anointing the sick.
Many religions likewise encourage their clergy or leaders to offer prayer and counseling to those suffering from physical and mental anguish. Some religious groups and organizations sponsor healing retreats and healing centers where someone can go for more intensive treatment. In some cases, these retreats and centers combine healing ministry with traditional medical and psychological treatment and may employ both clergy as well as traditional health care professionals on staff. In some cases, these healing retreats and centers may welcome friends and family members of the ill to join their loved ones so that they can receive support from the healing ministry and training in prayer and spiritual care of the ill.
Many practitioners of various methods of healing who do not enjoy widespread acceptance among conventional health care practitioners may describe their work as a healing ministry. This may be because freedom-of-religion laws in their area may protect the practice against charges of practicing medicine without a license. On the other hand, many alternative healing modalities are based on religious or spiritual philosophies, particularly those that involve some form of energy work. Some spiritual healers may make use of various types of folk or ceremonial magic and rituals, while others may use more conventional techniques, such as prayer and bodywork.


By: oconnelll

Freedom of religion may protect healing ministries from some legal charges.

By: Magdalena Kucova

Many Pentecostal denominations place a significant emphasis on healing through prayer.