Though pecans are popular nuts in many places, the glazed pecan is a particular favorite candy of the American South and Midwest. These party snacks are simply fresh pecans coated with a sweet, sugary glaze. Some home cooks add a personal touch for additional flavor to these pecan snacks, such as a pinch of cinnamon.
Like any type of bar nut, a glazed pecan treat can be served as a simple yet tasty accompaniment to holiday beverages or a mug of beer, much like Spanish tapas. The simple sugary treats can be easily poured into a jar, adorned with a ribbon, and presented as an elegant gift as well. As tasty as they are on their own, however, they can also be added to many different dessert recipes for a crunchy and sweet, nutty flavor.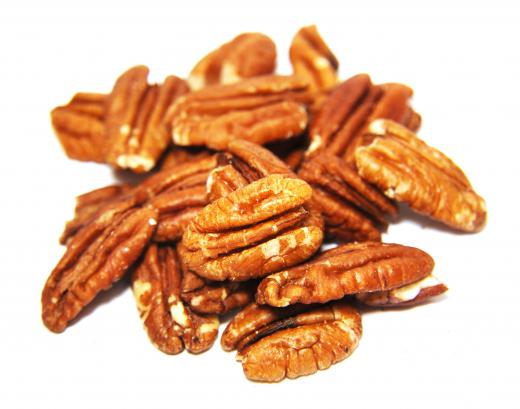 Most glazed pecan recipes call for baking the pecans in the oven after coating them with a sweet glaze. The glaze usually differs vastly according to family recipes. While some recipes call for sugar, others might add sweetness with maple syrup or honey instead. Corn syrup might be used to help retain the sweeteners on the nuts, while cream of tartar or butter may be used in other recipes. Cooks can choose which recipes appeal to their preferences the most, or improvise with their own favorite sweeteners.
Another variant on the glazed pecan is its flavoring agents. In addition to adding cinnamon to the snacks, cooks might add herbs, spices, or even other nuts and raisins to create a tasty new mixture for their guests to enjoy. Brown sugar is a popular flavoring device used on the glazed pecan, as is salt or sea salt. Cayenne pepper can be added for a bit of heat, while fresh rosemary can create an elegant, fragrant bite.
Recipes that call for glazed pecans also vary widely. Most baked goods can include glazed pecans if the cook desires to add something sweet and crunchy to the recipe. Brownies, cupcakes, and breads hold sweetened pecans very well. Trail or snack mixes, such as those with other nuts and fruits, can be supplemented with glazed pecans for a sweetened flavor without adding other sugary candies, such as chocolates.
While most cooks separate their pecans as they glaze and roast, some prefer to shape them in creative ways in accordance with special occasions. This can be done by forming a bar or other larger shape with the pecans before they bake, then retaining the shape after they have cooked by carefully removing it from the baking sheet. Once cooled, these can be eaten just as any other glazed pecan, only by taking bites instead of nibbling bite-sized pieces.
AS FEATURED ON:
AS FEATURED ON:






By: Virynja

Pecans are covered with a sugary glaze and served as party snacks.