What Is a Fast Dry Top Coat?
A top coat is a clear varnish that is applied over the top of colored nail polish. It is generally the final step in a manicure and is intended to provide an additional glossy appearance to the nails as well as to help protect the colored nail polish from chipping. A fast dry top coat, also commonly referred to as a quick dry top coat, is a version of the product that dries more quickly, often in one minute, after being applied compared to standard top coats.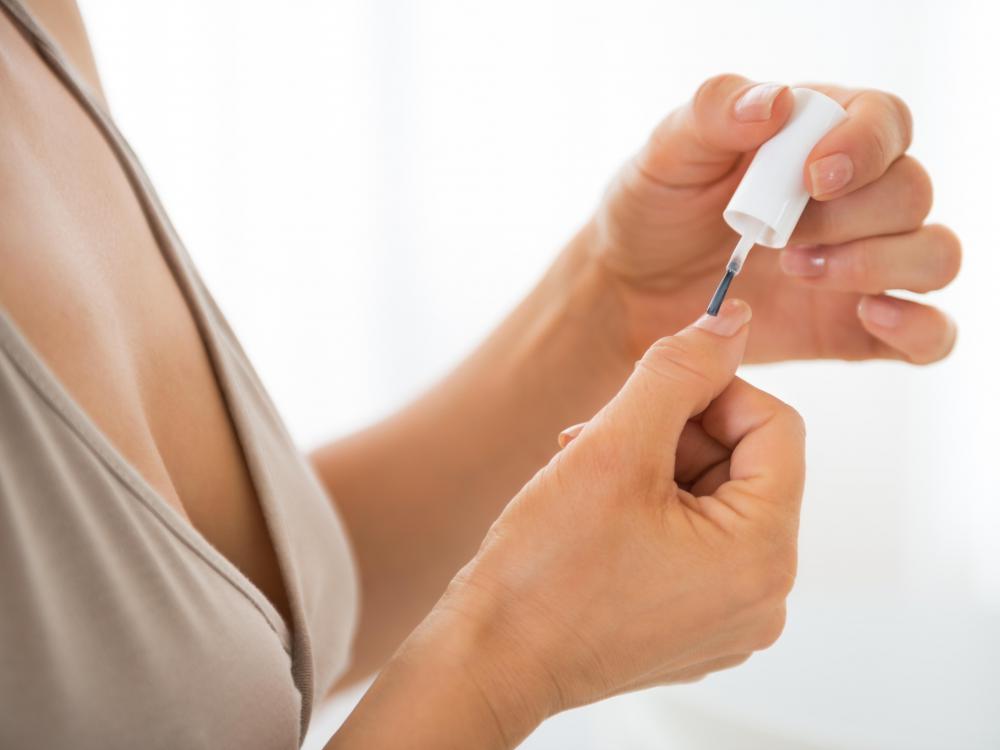 Standard nail polish formulas may vary depending on the manufacturer; however, there tend to be basic ingredients that most nail polishes have in common. These include cellulose fibers, which are responsible for creating a film that spreads evenly across the nail; resins, which are are used to add flexibility and make the varnish less prone to cracking; coloring agents to give the desired hue; and flammable solvents that help the varnish dry. As the solvent evaporates, it causes the nail polish to set and dry. A fast dry top coat generally contains a more potent type of solvent in order to decrease the time it takes to evaporate and dry the polish.
Applying a top coat is typically the last part of a manicure. Clean, unpolished nails are generally clipped and filed into the preferred shape, then painted with a clear base coat. A base coat is similar to a top coat, but it provides a smooth base for the nail polish to be applied so that color can be applied evenly and be further protected from chipping. A fast dry top coat is applied to the nails after any base coat and nail color has been applied and completely dried. To extend the length of the nail color before it needs reapplied, many manicurists will recommend applying a clear top coat two to three times a week.
Although fast dry top coat has a primary benefit of being a much quicker option than standard top coats, which can take at least five minutes or so to set completely, the quicker drying version does have some potential drawbacks. Critics of fast dry top coats claim the products do not offer as much protection as regular top coats against chipping. Slower drying top coats often contain additional protective ingredients, such as silicone, that form a barrier on the outside of the nail to protect the nail color against nicks; however, manicurists tend to agree to any type of top coat is better than using nothing at all over the colored nail polish.
A nail technician applying a fast dry top coat to a woman's fingernails.

Applying a top coat is typically the last part of a manicure.